Large-scale Wireless LAN Management Solution
PLANET WAPC-1000, a large-scale Wireless LAN Controller (WLAN Controller), features PLANET Smart AP Control managing up to 1024 PLANET smart access points across indoor and outdoor series to provide centralized wireless network management solution from medium to large enterprises. The WLAN controller enables service providers and IT managers to control all wireless APs at the same time in medium and large wireless network environments, such as hotels, villas, resorts and any public area.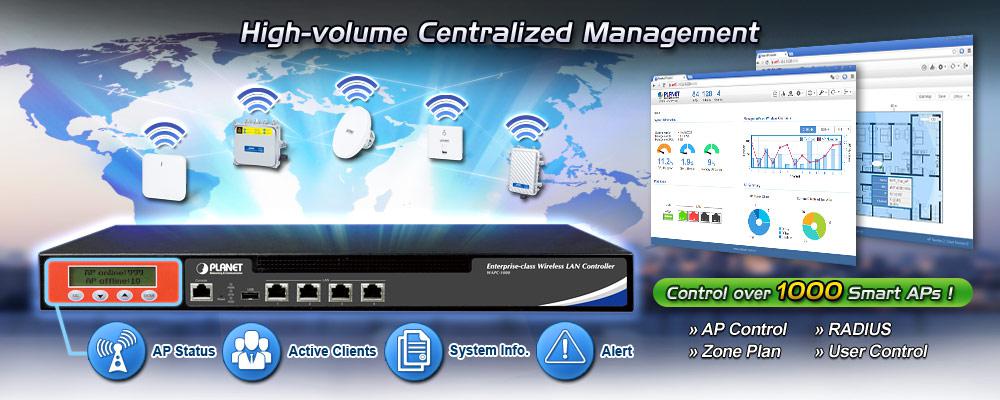 Various Smart APs that Suit Every Enterprise's Needs
To fulfill various business needs, the WLAN Controller supports a maximum of 16 models of Smart APs for both indoor and outdoor purposes including ceiling-mount, wall-mount, in-wall, industrial, single-band, dual-band and high-power access points which are able to adapt to different environments.
Speeding Up Management and Monitoring
With the WLAN Controller, the system integrator is able to deploy over 1000 access points at a time and centrally configures multiple PLANET smart access points through pre-defined SSID profile and radio profile with just one-click operation. The graphical and user-friendly management interface reduces system operation effort, thus simplifying the batch configuration without having to log on to each device.
Controlling Wireless Network within Minutes
The WLAN Controller, equipped with an LCD with keypads, provides a brief system overview and basic status, and moreover, its integrated Smart AP Control software comes with a dashboard view of your wireless network management. It offers a valuable wireless network information at a glance with the help of the data-driven graphical chart. The dashboard retrieves the real-time visualizations including the system usage, wireless channel distribution, AP loading of Top 3 and active clients traffic status which enables IT engineers quickly drill down into specific information.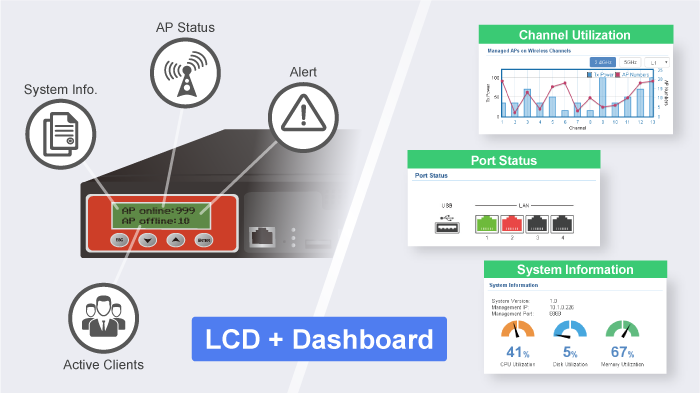 Wireless Cluster Management
To configure multiple Smart APs of the same model, the WLAN Controller allows clustering them to a managed group for unified management. According to requirements, wireless APs can be flexibly expanded or removed from a wireless AP group at any time. The AP cluster benefits bulk provision and bulk firmware upgrade through single entry point instead of having to configure settings in each of them separately.

Secure WLAN Access and User Control
The WLAN Controller can provide up to 1000 on-demand user accounts. The user accounts can be grouped according to a different access policy. The WLAN Controller's built-in RADIUS server is integrated for large-scale enterprises so as to provide secure user authentication through the managed RADIUS AP clients.
Optimizing Wi-Fi Deployment with Zone Maps
Importing your floor maps and locating each AP or AP group according to the field deployment can save your time and cost of on-site support and monitoring. It shows real-time AP status, and its signal heat map is capable of reflecting the actual coverage and helps the administrator to fine-tune the overlapping of the adjacent APs anytime to optimize the wireless network performance.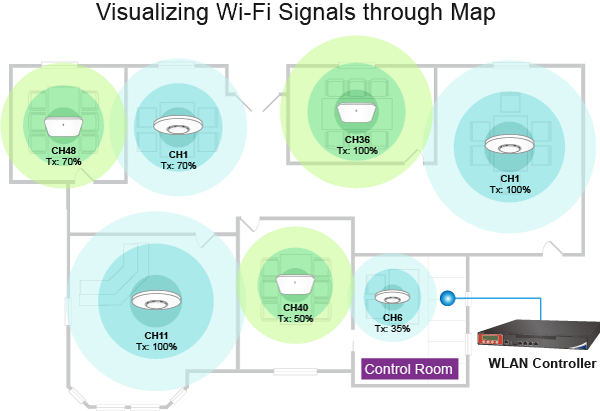 Real-time Monitoring to Speed Up Network Analysis
The WLAN Controller collects all the traffic statistics of the managed APs and displays both graphical and dynamic data information via graphs, charts and tables, reporting on a significant overview of your wireless network to make the daily monitoring more efficient.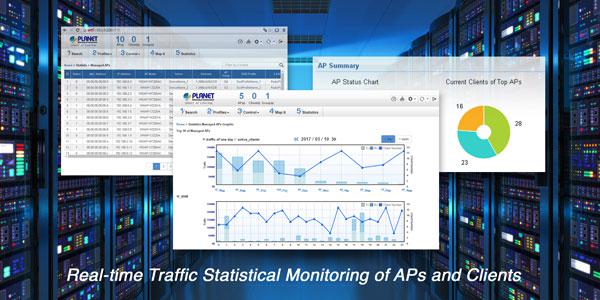 Maintenance and Scalability
Through the local high-capacity HDD or mounted USB storage device, the administrator is able to back up or restore the managed device list and profiles, thus reducing effort for system recovery. In addition, PLANET provides unlimited system upgrade and AP license for free to support future added models and advanced features. The WAPC WLAN Controller series is no doubt the best choice for the enterprise.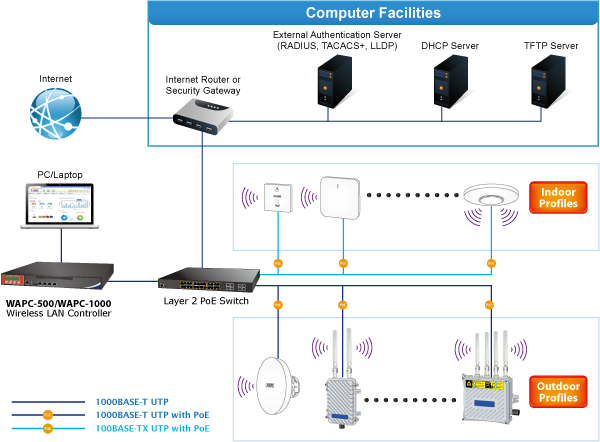 **We recommend you to match the WAPC-1000 with our related Smart AP series to get the best results.
Industrial-grade Physical Hardware
4 10/100/1000BASE-T Gigabit Ethernet RJ45 ports
Intel® Celeron® J1900 up to 2.42 GHz
RJ45 type console interface for basic management
1 USB 2.0 port for configuration backup and restore
Built-in LCM panel for easy status monitoring
1U rack-mount design

Wireless LAN AP Management
Dashboard: provides at-a-glance view of system and wireless network status
AP Discovery: one key to discover the managed APs on the managed LAN
Customized Profile: allows multiple wireless profiles creation and maintenance
Auto Provision: multi-AP provisioning with one click
Cluster Management: simplifies high-density AP management
Zone Plan: optimizes AP deployment with actual signal coverage
Analysis: real-time AP status monitoring
Authentication: built-in RADIUS server seamlessly integrated into the enterprise network
User Control: allows on-demand account creation and user defined access policy
Scalability: free system upgrade and AP firmware bulk upgrade capability
Management Capacity: monitoring and management of 1,024 access points

Network Management Characteristics
Easy discovery by PLANET Smart Discovery
Built-in DHCP Server
Console/Telnet command line interface
SSL secure access
Web-based GUI management interface
SNMP v1, v2c, and v3 management
Supports PLANET DDNS/Easy DDNS
Datasheet
Firmware
Quick Guide
User's Manual