Ultra-high-speed, Enterprise Wireless LAN Solution
To meet enterprise demand for wireless communication, PLANET WDAP-C7200E 1200Mbps Dual Band 802.11ac Wireless AP supports central management through PLANET AP controllers. With IEEE 802.11ac 2T2R dual-band technology, the WDAP-C7200E provides a maximum wireless speed of 867Mbps at 5GHz and 300Mbps at 2.4GHz.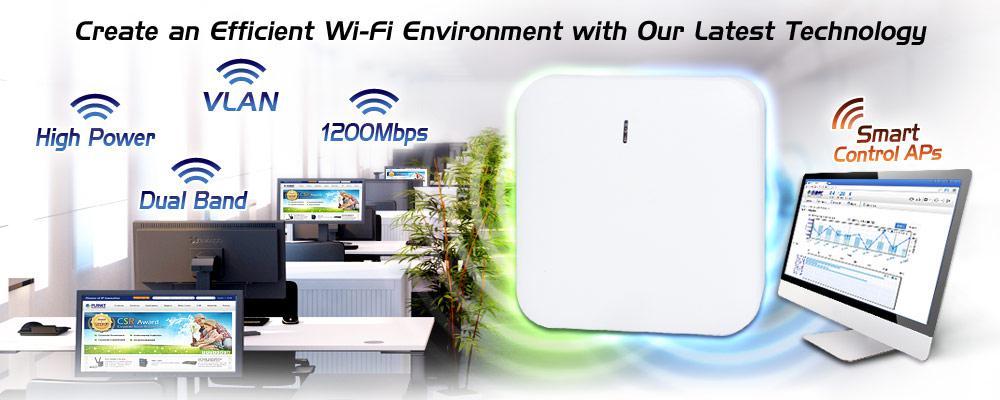 Powerful Dual-band WLAN Solution
PLANET WDAP-C7200E, adopting the IEEE 802.11ac standard, provides a high-speed transmission of power and data, meaning two remote nodes in the 5GHz frequency band can be bridged. The 2.4GHz wireless connection can also be used simultaneously. Furthermore, the WDAP-C7200E adopts the high-class Qualcomm Atheros SoC (System-on-a-Chip), which provides higher stability to meet the stringent requirements of the solution.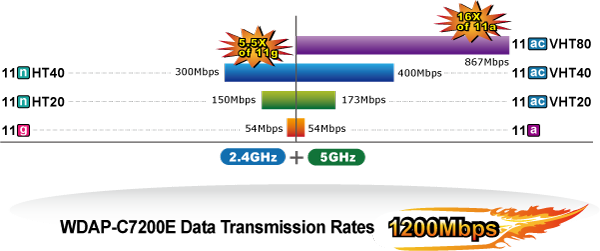 Advanced Security and Rigorous Authentication
The WDAP-C7200E supports 128-bit WEP, WPA / WPA2, WPA-PSK and WPA2-PSK wireless encryptions, the advanced WPA2-AES mechanism and 802.1X RADIUS authentication, which can effectively prevent eavesdropping by unauthorized users or bandwidth occupied by unauthenticated wireless access. Furthermore, any users are granted or denied access to the wireless LAN network based on the ACL (Access Control List) that the administrator pre-established. For management purposes, the IEEE 802.1Q VLAN supported allows multiple VLAN tags to be mapped to multiple SSIDs to distinguish the wireless access.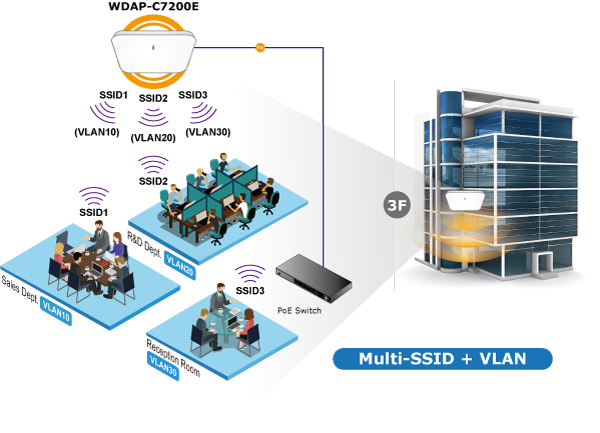 Ceiling-mount Design for Your Environment
With the standard IEEE802.3at Power over Ethernet (PoE) design, the WDAP-C7200E can be easily installed in the areas where power outlets are not available. By supporting the standard IEEE 802.3at PoE PD power scheme, the WDAP-C7200E can be powered and networked by a single UTP cable, effectively eliminating the needs of dedicated electrical outlets on the ceiling and reducing the cabling cost. Furthermore, the system administrator is able to arrange the PoE schedule of the WDAP-C7200E by working with the managed PoE switch.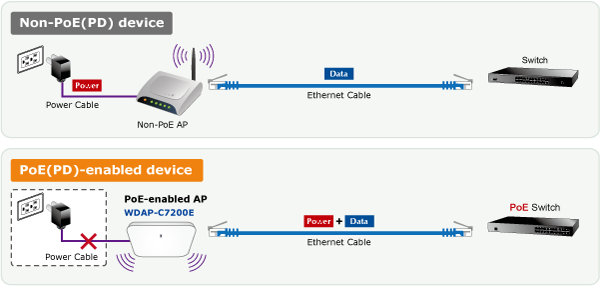 Easy Installation and Management
With user-friendly Web UI and step-by-step Quick Setup Wizard, the WDAP-C7200E is easy to install, even for users who never experience setting up a wireless network. Furthermore, you can simply install our software controller, PLANET SAPC (Smart AP Control), to deliver wireless profiles to multiple APs simultaneously, thus making the central management simple.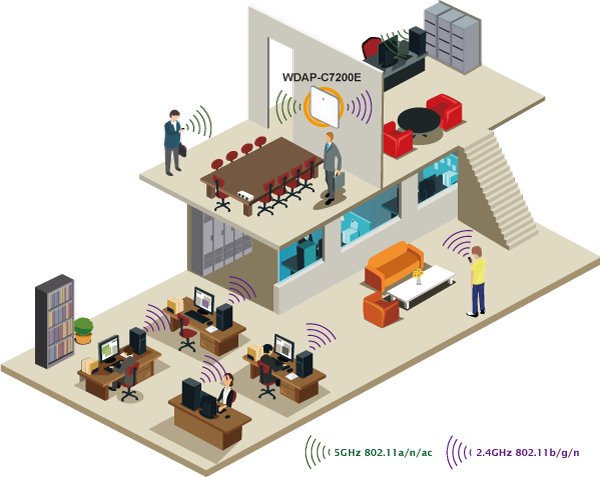 Extreme High Speed and Dual Band Make Wi-Fi Transmission More Powerful
The WDAP-C7200E delivers the Dual Band technology to avoid signal interference and ensure the best Wi-Fi performance. It allows you to check e-mails and surf the Internet via the 2.4GHz band and simultaneously watch High-Definition (HD) video or any other multimedia application via 5GHz band. Moreover, the Gigabit Ethernet port of the WDAP-C7200E offers ultra-fast wired connections that utilize the maximum wireless bandwidth; therefore, users will have real wireless speed over 100Mbps. With outstanding stability of high-speed wireless transmission, the WDAP-C7200E can provide users with excellent experience in multimedia streaming with your mobile devices anywhere, anytime.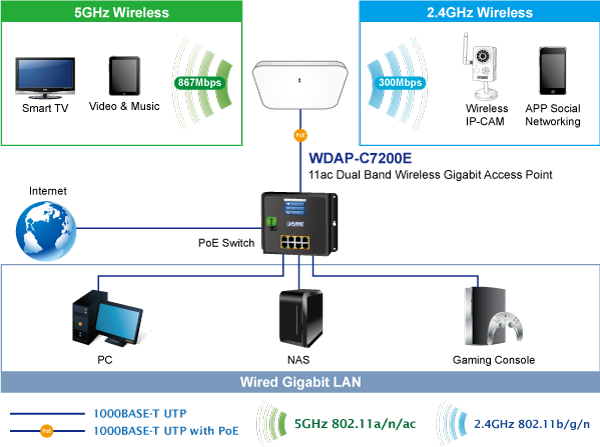 Multiple Operation Modes for Various Applications
WDAP-C7200E supports AP, Gateway, WDS Bridge PtP, WDS Bridge PtMP and Repeater modes, through which it provides more flexibility for users when wireless network is established. Compared with general wireless access points, the WDAP-C7200E offers more powerful and flexible capability for wireless clients.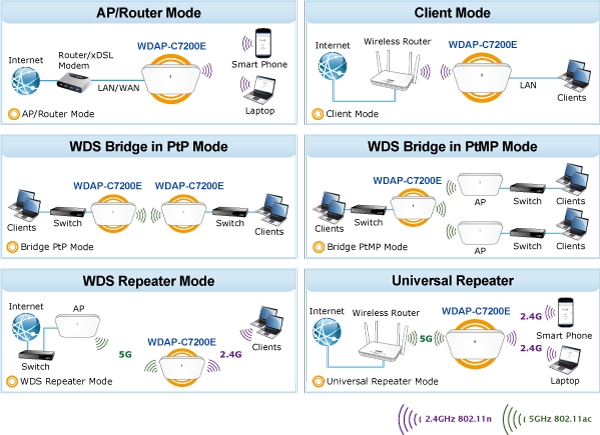 Industrial Compliant Wireless LAN and LAN
Compliant with the IEEE 802.11a/b/g/n/ac wireless technology
Equipped with 10/100/1000Mbps RJ45 ports, auto MDI/MDI-X supported

RF Interface Characteristics
802.11ac 2T2R MIMO architecture with data rate of up to 1200Mbps (300Mbps at 2.4GHz and 867Mbps at 5GHz)
High output power with multiply-adjustable transmit power control

Multiple Operation Modes and Wireless Features
Multiple operation modes: AP, Gateway, Repeater, WDS
WMM (Wi-Fi multimedia) provides higher priority to multimedia transmitting over wireless
Coverage threshold to limit the weak signal of clients occupying session
Real-time Wi-Fi channel analysis chart and client limit control for better performance

Secure Network Connection
Full encryption supported: 64-/128-bit WEP, WPA/WPA2, WPA-PSK/WPA2-PSK and 802.1X RADIUS authentication
Supports 802.1Q VLAN and SSID-to-VLAN mapping
Supports IP/Port/MAC address/URL filtering, DoS, SPI Firewall
Supports DMZ and Port forwarding
Bandwidth control per IP address to increase network stability

Easy Deployment and Management
Supports PLANET AP Controllers in AP mode
Easy discovery by PLANET Smart Discovery
Self-healing mechanism through system auto reboot setting
System status monitoring through remote Syslog Server
Supports PLANET DDNS/ Easy DDNS
Datasheet
Firmware
Quick Guide
User's Manual