Ultra High Speed and Wide Coverage
PLANET WDAP-802AC 1200Mbps Dual Band 802.11ac Outdoor Wireless AP offer a wide coverage of wireless Internet access and ultimate wireless speed. It comes with the IP68-rated aluminum case protected from contact with harmful dust and immersion in water. It adopts the latest IEEE 802.11ac 2T2R dual-band technology and provides 2.4GHz and 5GHz dual radios with maximum connectivity and performance for long-range coverage. By connecting high-gain antenna through the flexible N-type connectors, the system integrator can easily assist customers in achieving various outdoor long-distance applications under rough weather in any harsh environment.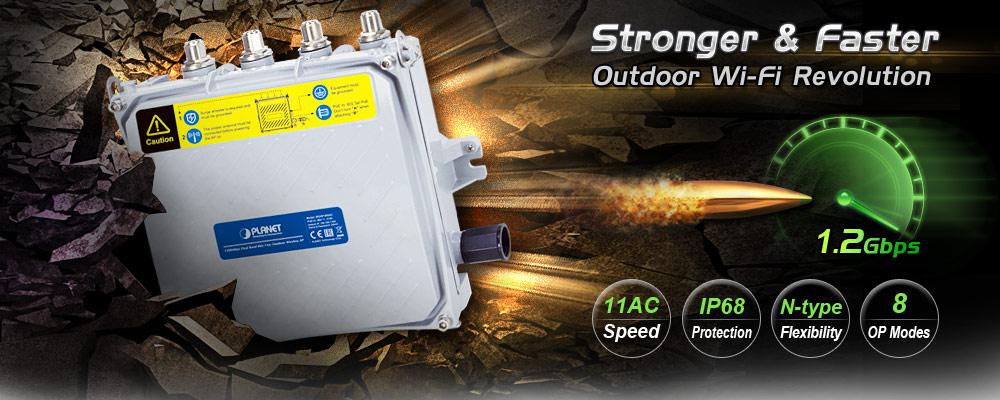 Flexible, Durable and Reliable Outdoor Characteristics
To reach maximum reliability in the harsh environment, the WDAP-802AC not only comes with IP68-rated Aluminum Die-cast Housing, but also adopts the enterprise-level Qualcomm kernel, capable of withstanding wide temperature ranging from -40 to 70 degrees C. Designed with the IEEE 802.3at PoE+ (Power over Ethernet) power scheme, the WDAP-802AC can be easily installed in the areas where power outlets are not available. Furthermore, it is also suitable to be integrated with PLANET Solar Power PoE System to offer farther wireless service in remote areas.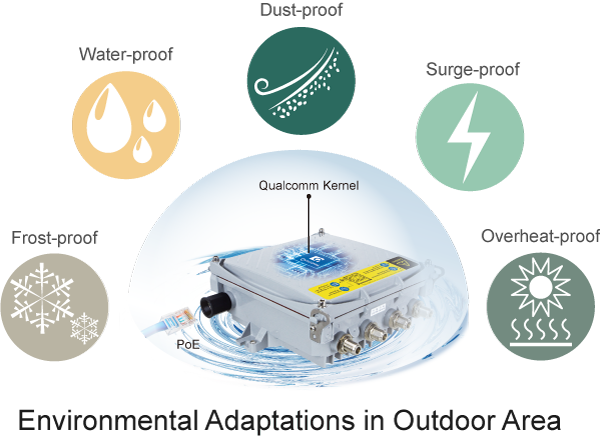 Central Management Simplifies High-density Deployment
For wireless deployment in high-density environments such as campuses, communities, warehouses, etc., the dual-radio design and coverage threshold make the WDAP-802AC capable of utilizing dual band to relay signal and limit specific clients so as to provide maximum bandwidth to those authenticated users. Moreover, you can simply install our software controller, PLANET SAPC (Smart AP Control), to deliver wireless profiles to multiple APs simultaneously, thus making the central management simple.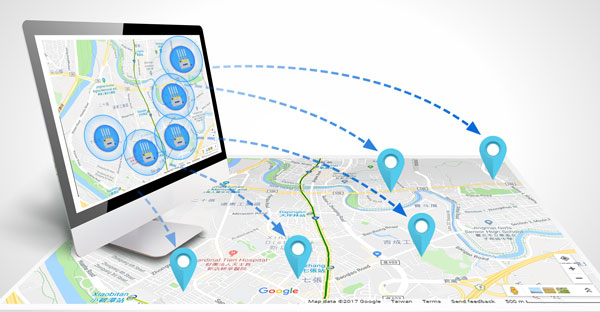 Multiple SSIDs with VLAN Tagging
In the aspect of security, the WDAP-802AC supports WPA/ WPA2, and the 802.1X RADIUS authentication to secure the wireless connection. Besides, the supported IEEE 802.1Q VLAN allows multiple VLAN tags to be mapped to multiple SSIDs to distinguish the wireless access. This makes it possible for the WDAP-802AC to work with managed Ethernet switches to have VLANs assigned for a different access level and authority.
More User-friendly, Higher Efficiency and Better Experience
The WDAP-802AC is designed to reduce the difficulty of the outdoor configuration and optimize user experience. With the graphical Web GUI and setup wizard assisting administrator quickly in configuring suitable operation modes for various applications, the built-in Wi-Fi analyzer provides real-time channel utilization to prevent channel occupation among APs. With the automatic transmission power mechanism, distance control and scheduling reboot setting, the WDAP-802AC is easier for administrator to deploy and manage without on-site maintenance.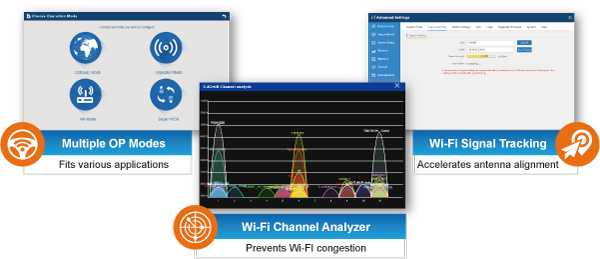 Robust Hardware and Flexible Dual RF for Various Outdoor Requirements
With high-power, long-distance, reliable and comprehensive characteristics, the WDAP-802AC designed with durable and robust IP68 hardware architecture, and dramatic wireless efficiency is perfect for any outdoor network infrastructure. Its higher gain antennas with dual RF design, the WDAP-802AC can be adapted to various applications. For example, the WDAP- 802AC can establish the backhaul link through the 5GHz radio and then relay the wireless signal through the 2.4GHz radio to provide internet service to rural residents. With the WDAP- 802AC, an outdoor wireless infrastructure in the harsh environment can be speedily deployed to reduce cabling cost and installation time.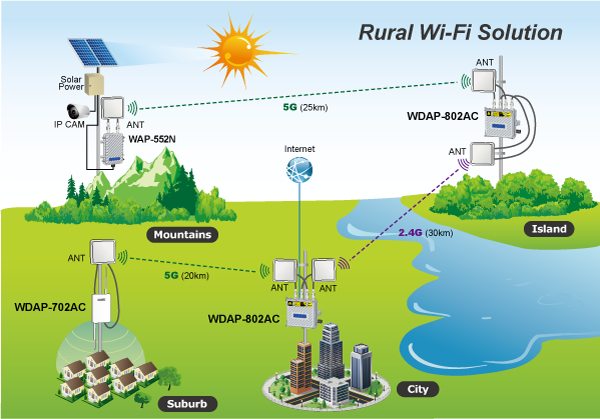 In addition, compatible with the latest PLANET Smart AP Control, the WAP-552N can assist administrators in managing the network centrally with ease.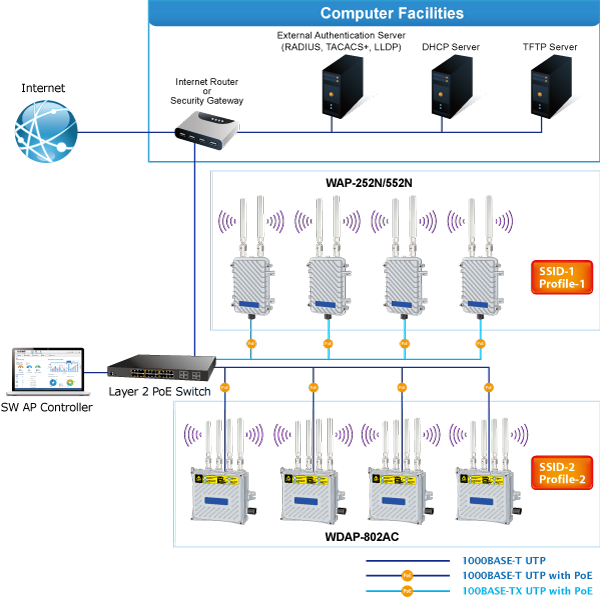 **We recommend you to match the WDAP-802AC with our related products to get the best results.
Industrial Wireless LAN and LAN
Compliant with the IEEE 802.11a/b/g/n/ac wireless technology
802.11ac 2T2R MIMO architecture with data rate of up to 1200Mbps (300Mbps at 2.4GHz and 867Mbps at 5GHz)
Equipped with 10/100/1000Mbps RJ45 port with auto MDI/MDI-X supported

RF Interface Characteristics
Built-in four N-type antenna connectors
High output power with multiply-adjustable transmit power control

Outdoor Environmental Characteristics
IP68 rating, IEEE 802.3at PoE design
Rugged protection with aluminum extrusion case and ground terminal
Operating temperature: -40~70 degrees C

Multiple Operation Modes and Wireless Features
Multiple operation modes: AP, Gateway, Repeater, WDS, WISP
WMM (Wi-Fi multimedia) provides higher priority to multimedia transmitting over wireless
Coverage threshold to limit the weak signal of clients occupying session
Real-time Wi-Fi channel analysis chart and client limit control for better performance

Secure Network Connection
Full encryption supported: 64-/128-bit WEP, WPA/WPA2, WPA-PSK/WPA2-PSK and 802.1X RADIUS authentication
Supports 802.1Q VLAN and SSID-to-VLAN mapping
Supports IP/Port/MAC address/URL filtering, DoS, SPI Firewall
Supports DMZ and Port forwarding
Bandwidth control per IP address to increase network stability

Easy Deployment and Management
Supports PLANET AP Controllers in AP mode
Easy discovery by PLANET Smart Discovery
Self-healing mechanism through system auto reboot setting
System status monitoring through remote Syslog Server
Supports PLANET DDNS/ Easy DDNS
Datasheet
Firmware
Quick Guide
User's Manual