Industry-leading Integration of PoE Technology and Solar Power System
For the increasing demand of network installation anywhere, the PLANET BSP-300 Industrial Solar Power PoE Switch now provides the ideal solution. Powered by Zero-Carbon emission source -- the sunlight, the BSP-300 incorporates Pulse Width Modulated (PWM) charge controllers to effectively force the solar panels to operate at the same voltage as the battery bank during charging. The BSP-300 can empower the high power PoE network devices anywhere without any obstacles of geographical barrier.

With the integration of the IEEE 802.3at PoE technology and solar power system, the BSP-300 provides hassle-free and maintenance-free solution for those in need for fast connectivity that requires great flexibility and reliability, such as remote monitoring and long distance wireless communication. The BSP-300 makes the network deployment easier and more reliably.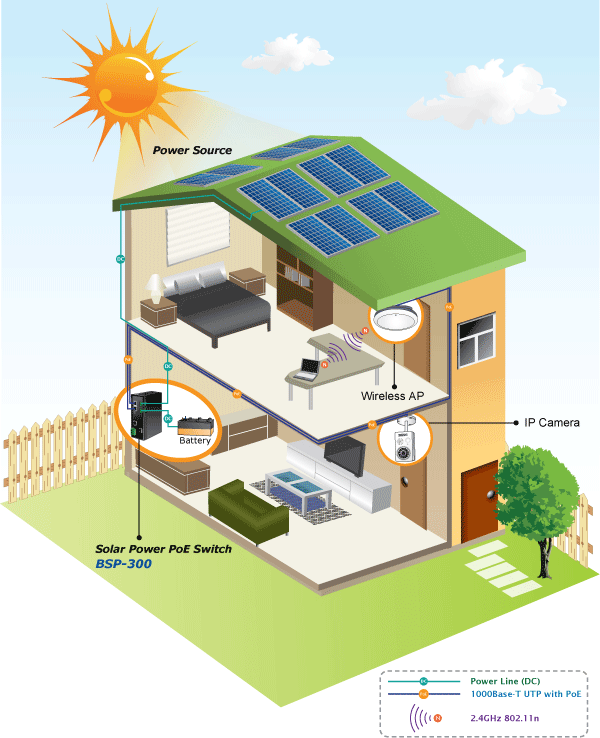 Plug and Play High Power PoE Network Deployment
Through its two IEEE 802.3at Gigabit High Power PoE interface delivering power to wireless access points and IP cameras, the BSP-300 makes it easy to realize far-reaching data transmission and IP surveillance in remote areas. Just simply Plug and Play, the 802.3at / 802.3af PoE wireless LAN and IP surveillance system can be constructed easily without additional wiring.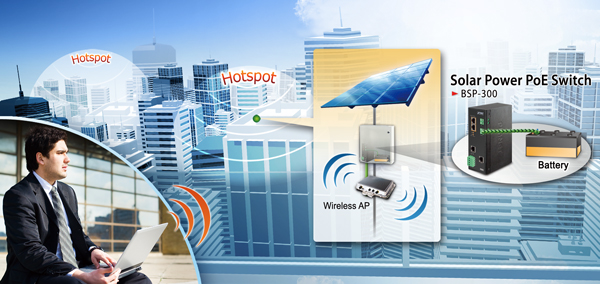 Zero-Carbon and Stable Power Supply
The BSP-300 utilizes the solar power sourcing and co-works with the common nickel-cadmium battery or lead-acid battery to form an independent solar power supply system for outdoor network system. The BSP-300 delivers zero-carbon and uninterruptible power supply for continuous outdoor wireless and IP surveillance applications without the need of any cabling. This system saves 100% power loss for users. It can power the client devices and charging at the same time during the day and continuing the operation in the night with the co-working battery.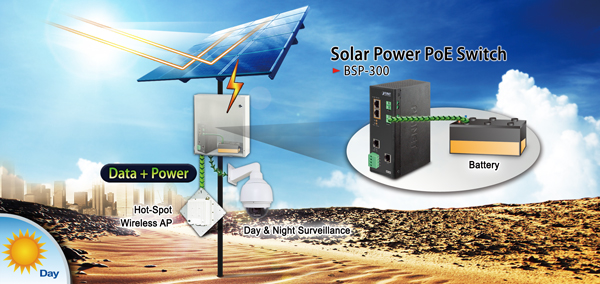 Application Sites
• Forest / National Park Monitoring
• Public Surveillance / Public Wireless LAN System
• Telecom / ISP Wireless Extension
• Hospital / Remote Health Care
• Village / Resort
• Harbor / Oil Rig / Mine Industry
• Instant Network Infrastructure for Critical Mission

Solar PoE Power Supply for Long Distance Wireless Surveillance Solution
Providing Plug-and-Play instant Internet Service, the BSP-300 can be deployed anywhere in the city where there is need of Wireless Internet Connection. With the two 802.3at / 802.3af PoE interfaces, the BSP-300 enables you to install the PoE access point such as PLANET PoE Wireless Outdoor AP and PoE IP Cameras in any place of the city where there is no direct AC electricity. Just connect the PoE wireless access points or IP cameras to the BSP-300 and the wireless LAN or surveillance system can be deployed immediately.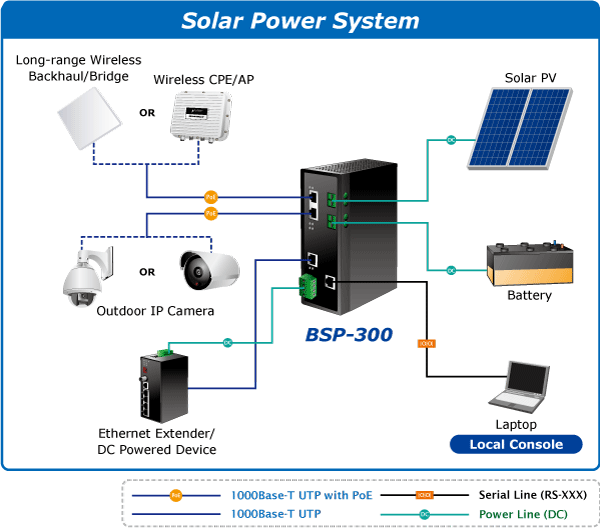 When functioning with a pair of serial over Ethernet media converters and the wireless transmission, the BSP-300 Industrial Solar Power PoE Switch can be efficiently managed from remote monitor center.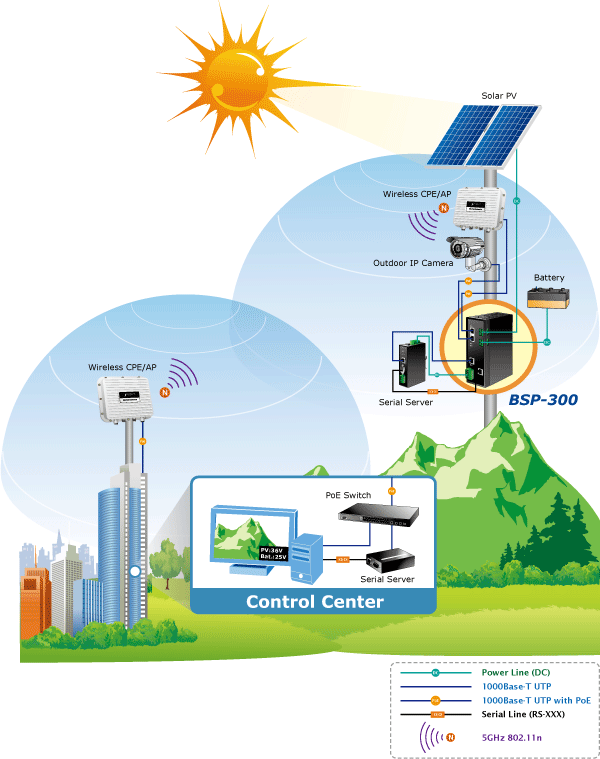 Hardware
• Dual IEEE802.3at / 802.3af Power over Ethernet interfaces
 - Free the wiring for networking system installation, up to 100 meters distance for both
  power and data transmission
 - Enables flexible installation of dual PoE Wireless Access Point, Hot-spot Gateway or
  Surveillance system.
• Pulse Width Modulation (PWM) Protection
 - Reverse current protection to prevent the current circuits from flowing back to the PV panel
 - Over-current and Over-temperature protection
 - Reverse polarity protection (for battery and charging electrodes)
 - PWM voltage output control at power load

System
• Smart Power Management System
 - Co-working with 300 watts solar PV kit and battery, the BSP-300 empowers the connected
  PoE devices in the day time and charging the battery stably.
 - In the night time, the smart power system monitors and empower the client devices and
  helps to extend the battery life from charging and discharging.
 - Easy diagnose of the system operating status via LED indicator
 - Parameter settings can be remotely configured through the computer
• Installation
 - Integrates with solar PV and battery for easy installation of PoE devices and enabling client
  devices Plug-and-Play
 - Battery type options: Nickel-cadmium battery, Lead-acid battery
Datasheet
Quick Guide
User's Manual
Utility
EC Declaration