Cost-effective Solution for RS-232 / RS-422 / RS-485 to Ethernet Application
Медиаконвертер последовательного интерфейса PLANET ICS-100 Media Converter / Device Server provides to convert Serial RS-232 / RS-422 / RS-485 communication interface over Fast Ethernet networking. Ethernet signal allows two types of segments to connect easily, efficiently and inexpensively. This converter can be used as a stand-alone unit or as a slide-in module to PLANET Media Converter Chassis (MC-700 / MC-1500/ MC-1500R / MC-1500R48). It is time, saving expense for users and SIs, and there is no need to replace the existing serial equipment and software system.

Remote Manageable
Медиаконвертер последовательного интерфейса ICS-100 makes connected serial equipment become the IP-based type. That also makes them able to connect to a TCP / IP networking immediately. Each Web-Smart converter is able to manage Web interface. The powerful Web-Smart Media Converter supports application mode and serial operation mode, connecting alarm, IP address, etc. It helps reduce the amount of valuable time that a network administrator spends detecting and locating network problems; otherwise, it requires visual inspection of cabling and equipment. Multiple connection options for large networking environment are available as well.
Access Control System – Traditional Installation
Most of the enterprises and governments use access control plate and Mifare or RFID to authorize entrance identity. With the traditional deployment, access control machine uses RS-232 or RS-485 serial interface and cables connecting to login server. With connection to ICS-10x serial over Fast Ethernet Converter, the access control machine is able to extend over longer distances via Ethernet. Or the ICS-10x can be linked to an XDSL router to get the internet access capability; the access control can be set and monitored over the Internet.

Process Control
To monitor, configure and manage the Robot conveyer including other manufacturing machines, PLC (Programmable Logical Control) is required. The PLC is used to drive the above the manufacturing process. The ICS-10x can be set to TCP server mode and connect the PLC. The administrator can configure and set command settings through Fast Ethernet intranet to control the PLC, the administrator and workstation. There is no need for the adminstrators to be always by the side of the I/O machine.

RTU Data Collect – UDP Mode
Connect with RTU (Remote Terminal Unit) to collect and monitor the data of waves, signal and power utilization. The ICS-10x can be used to set up UDP mode and send data over Fast Ethernet to Local server or over Internet to remote server automatically.

Surveillance Motion Control – Pair Connection Mode
Using pair connection along with fiber optic patch cord, the ICS-10x extends RS-232 / RS-422 / RS-485 interface distance from surveillance and scanner to the control keyboard/joystick which is installed in the remote monitoring center.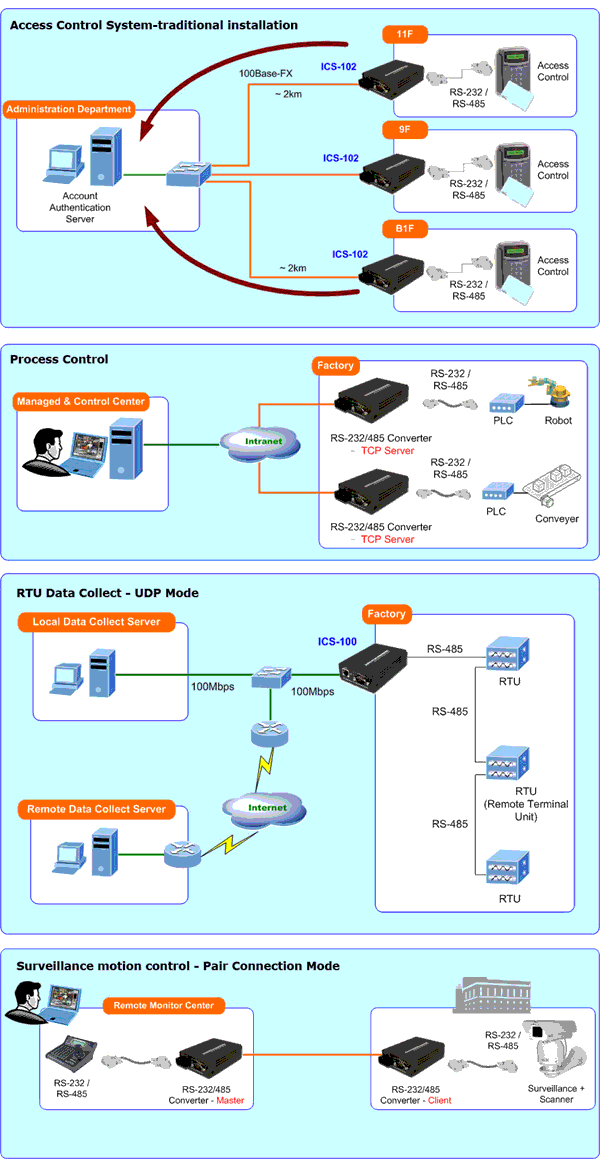 Serial Interface
One RS-232 / 422 / 485 port to one 10/100Base-TX or 100Base-FX Media Converter
Cost-effective solution for RS-232 to Ethernet application
Supports RS-232, 4-wire RS-422 or 2/4-wire RS485 operation
Asynchronous serial data rates up to 921600b/s
Ethernet Interface
Complies with IEEE 802.3, IEEE 802.3u 10/100Base-TX standard
Supports auto MDI/MDI-X function on RJ-45 Port

Smart Functions
Standard TCP / IP interface and versatile operation modes
Software Protocol Support ARP, ICMP,TCP / IP, UDP, HTTP server, DHCP client, Telnet server/client
Built-in IP-base Web interface for remote management
Serial operation mode selected via Web management
Pair connection mode for connecting two serial devices over a network
PLANET Smart Discovery utility automatically finds PLANET devices on the network
Firmware upgrade via HTTP protocol

Hardware
Compact size for easy Installation
- Standalone - Wall mountable or DIN-rail mounting (optional accessory)
- Co-work with PLANET MC family Media Chassis (MC-700/1000R/1500)
LED indicators for easy network diagnose
Reset button on the front panel for reset to factory default
Datasheet
Firmware
Quick Guide
User's Manual
Utility
EC Declaration