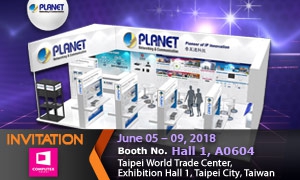 PLANET Technology Corporation, a global leading IP-based networking company, will participate in the Computex Taipei 2018 on June 5 - 9 (Booth no. Hall 1, A0604) to present its brand-new intelligent Network Management System and comprehensive network infrastructure solutions to IoT and IIoT.
PLANET has newly developed the industry-leading Universal Network Management System (UNI-NMS) that can auto-detect and manage all network equipment compliant with the SNMP Protocol, ONVIF Protocol or PLANET Smart Discovery Utility on the intranet. At the Computex 2018, the company will show how its smart network platform supports the network administrators to centrally manage wired and wireless networking products covering both commercial-grade and industrial-grade Ethernet switches, wireless LAN devices, IP cameras, and VoIP devices within a remote network from a central office.
Devoted to providing user-friendly and efficient network management solutions, PLANET will introduce its new Smart Color Touch LCD Ethernet Product Series, Flat-type Managed Switches and Flat-type Gigabit Routers compact in size for flexible installation. Featuring an intuitive LCD touch screen for timely management, PLANET's Smart Color Touch LCD Ethernet Product Series is perfectly suitable for network infrastructures of building automation, smart factory and enterprise.
Designed for high-density networks such as metropolitan areas, ISPs, data centers, enterprises, campuses and communities, PLANET's highly-reputable Layer 3 10G Fiber-optic Stackable Switches, 802.3bt compliant Ultra PoE networking equipment supplying 60~95-watts and cloud home automation equipment, as well as its latest Centralized Wireless LAN Management Solution will be displayed at this year's Computex. Being the world's first model to centrally control 1,024 High Power Outdoor and Indoor APs, PLANET's Enterprise-class Wireless LAN Controller will be displayed during the exhibition at the Taipei Nangang Exhibition Center where the benefits of having the product managed your large-scale wireless LAN will be made known.
PLANET Modbus TCP/IP Managed Ethernet Switches, Rack-mountable Ring-managed PoE Switches, and 10G Fiber Ethernet devices will be exhibited at the Computex 2018 to help realize the Industry 4.0. When co-working with the Industrial-grade 802.3bt compliant Ultra PoE equipment, PLANET Industrial Ethernet Solutions ensure an energy-saving and centrally-managed network infrastructure of IIoT. Meanwhile, PLANET will introduce its EN50155-compliant intelligent transportation system solution, 4G LTE VPN Gateway with built-in GPS, Renewable Energy PoE Switch and Long Reach Power over Ethernet/Coaxial devices to enable the surveillance systems and wireless LAN communications to be accomplished smoothly in cities, railways, highways or even remote areas.