Faster Speed and Longer Distance
Adopting IEEE 802.11n advanced MIMO technology, it provides high speed, reliable wireless network coverage, and incredible improvement in the wireless performance. As an IEEE 802.11b/g/n compliant wireless device, the WNAP-6335 is able to give stable and efficient wireless performance for long distance application, and with IEEE 802.11n standard and 2T2R MIMO technology, the WNAP-6335 can deliver data rate up to 300Mbps, six times faster than that of the normal 802.11g wireless device. With its adjustable output power up to 500mW and RP-SMA antenna connectors, it can directly connect with various high gain antennas to extend higher coverage for outdoor long-ranging application.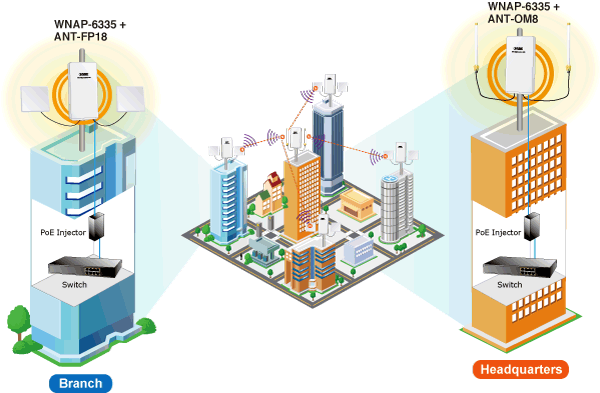 Designed for Various Requirements of Wireless LAN
The WNAP-6335 supports multiple wireless communication connectivities, including AP/Router, WDS PtP, WDS PtMP and WISP modes, that meet various application requirements to enable users to gain more comprehensive experience. It also helps users to easily build wireless network and extend the wireless range of the existing wireless network.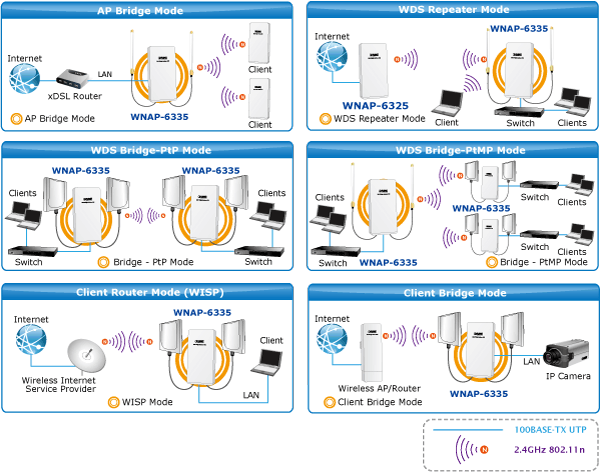 Advanced Security and Rigorous Authentication
In aspect of security, besides 64/128-bit WEP encryption, the WNAP-6335 is integrated with WPA / WPA2, WPA-PSK / WPA2-PSK and 802.1x authority to secure and protect your wireless LAN. The wireless MAC filtering and SSID broadcast control are to consolidate the wireless network security and prevent unauthorized wireless connection.
Flexible and Reliable Outdoor Characteristics
The WNAP-6335 is definitely suitable for such applications as IP surveillance, backhaul link of building to building and backbone of public service. Additionally, the self-healing and schedule reboot capability keeps connection alive all the time. Meeting the IP55 rating for outdoor UV resistant enclosure, the WNAP-6335 can perform normally under rigorous weather conditions, meaning it can be installed in any harsh, outdoor environments. With the proprietary Power over Ethernet (PoE) design, the WNAP-6335 can be easily installed in the areas where power outlets are not available.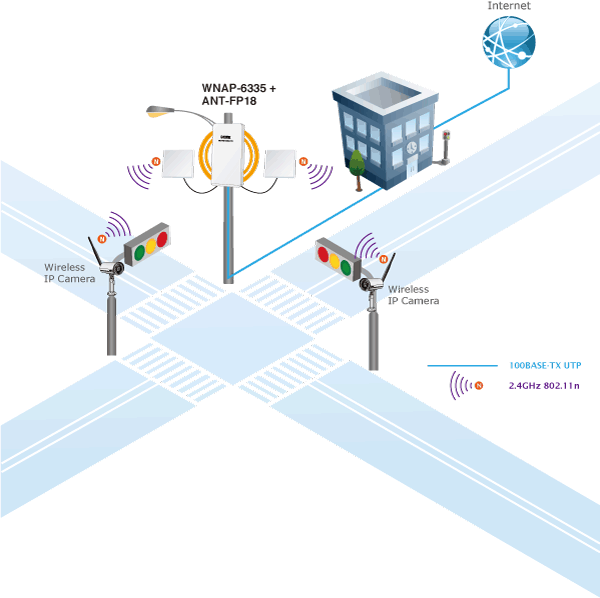 Easy Deployment and Management
With user-friendly Web UI and the Planet Smart Discovery Utility, the WNAP-6335 is easy to install, even for users who never experience in setting up a wireless network. Furthermore, with the PLANET Dynamic DNS service and SNMP-based management interface, the WNAP-6335 is convenient to be managed and configured remotely.
Flexible Outdoor Wireless Solution
The WNAP-6335 is a cost-effective outdoor wireless LAN solution for widely open space applications. It is definitely suitable for outdoor wireless connections between buildings and IP surveillance facilities. Furthermore, the WNAP-6335 can perfectly prevent damage from lightning surges when functioning with PLANET ELA-100, the Ethernet Lightning Arrest Box, which assures the connection stability.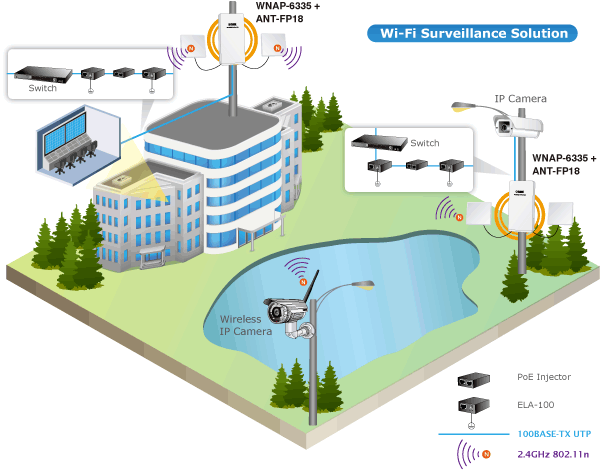 With built-in RP-SMA connectors, the WNAP-6335 can equip with various antennas that will bring higher performance and longer distance of wireless connection. The WNAP-6335 provides high output power with multiply-adjustable Tx controller, which allows CPE users to easily install and adjust the suitable power output in appropriate locations. When connecting with the WNAP-6335, the system integrator is able to provide a reliable IP surveillance solution to increasing wireless coverage of the IP camera.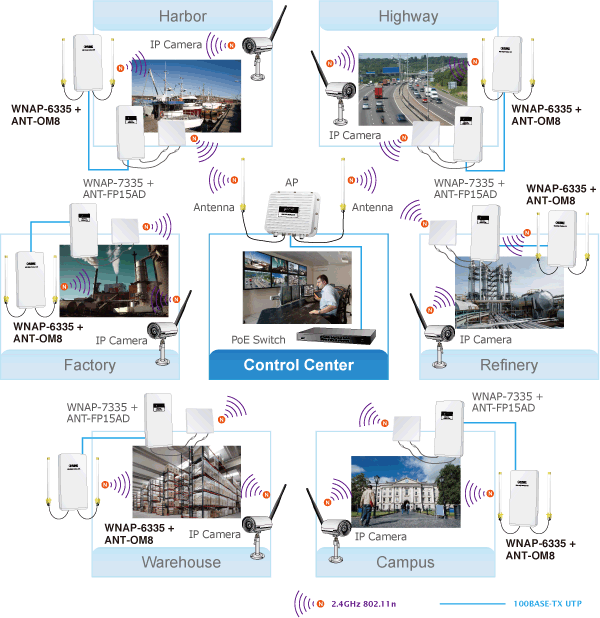 **We recommend you to match the WNAP-6335 with our related products to get the best results.
Industrial Compliant Wireless LAN & LAN
Compliant with IEEE 802.11n wireless technology capable of delivering data rate up to 300Mbps
Backward compatible with 802.11b/g standards
Equipped with 10/100Mbps RJ45 ports for LAN and WAN; auto MDI/ MDI-X supported
Fixed Network Broadband Router
Supported connection types: Dynamic IP, Static IP, PPPoE
Supports Virtual Server and DMZ for various networking applications
Support DHCP Server, UPnP and PLANET Dynamic DNS
RF Interface Characteristics
Built-in RP-SMA antenna connectors
High Output Power up to 500mW with multiply-adjustable transmit power control
Outdoor Environmental Characteristics
IP55 enclosure
Passive Power over Ethernet design
Operating temperature: -20~70°C
Multiple Operation and Wireless Modes
Multiple Operation Modes: Bridge, WISP
Multiple Wireless Modes: AP, Client CPE (WISP), WDS PtP, WDS PtMP
Supports WMM (Wi-Fi Multimedia)
Reliable and Secure Network Connection
Supports Software Wi-Fi Protected Setup (WPS)
Advanced Security: 64/128-bit WEP, WPA/WPA2, WPA-PSK/WPA2-PSK(TKIP/AES), and 802.1x authentication
Supports IP/Protocol-based access control and MAC filtering
Supports self-healing (Schedule Reboot) mechanism for reliable connection
TDMA Technology enhances greater wireless efficiency
Easy Installation and Management
Web-based UI and quick setup wizard for easy configuration
SNMP-based management interface
System status monitoring includes DHCP Client and System Log
Datasheet
Firmware
Quick Guide
User's Manual
Utility
EC Declaration