Perfectly Designed for FTTx Last Mile Applications
PLANET VDL-2420M is a telecom-level, high-performance VDSL2 IP DSLAM (Digital Subscriber Line Access Multiplexer) with 24 VDSL2 ports, 2 Gigabit TP/SFP combo interfaces and robust Layer 2+ switching features. The VDL-2420M is fully compliant with the ITU-T G.993.2 standard and supports VDSL2 30a profiles to offer a maximum download or upload line rate of up to 100/100Mbps on the existing twisted-pair lines. The VDL-2420M helps service providers to easily provide high bandwidth demanded by triple play services such as IPTV, HDTV, Video Phone and Internet Gaming over the same copper line and they can be uplinked to the core/metro Ethernet network through the two Gigabit fiber-optic interfaces. It is an ideal CO solution for FTTx Last Mile applications of broadband access by ISPs, telecoms and campuses.

Comprehensive and Advanced VDSL2 Configuration
For the bandwidth and distance of broadband access, the VDL-2420M VDSL2 IP DSLAM supports multiple selective VDSL2 profiles (8a, 8b, 8c, 8d, 12a, 12b, 17a and 30a). To help provide the ISPs with internet access service in different physical line installation environments, the VDL-2420M supports configurable DPBO (Downstream Power Back-Off) and UPBO (Upstream Power Back-Off) to adjust the downstream and upstream transmit power levels for service providers to reduce the interference by nearby wires. Furthermore, it can be configured on a per link basis for transmission mode, rate limitation and SNR (signal-to-noise) margin. These advanced VDSL2 functionalities help service providers to adjust the line performance to ensure the VDSL2 service cannot be impacted by other xDSL services in the same binder group and build a stable and reliable IP DSLAM solution.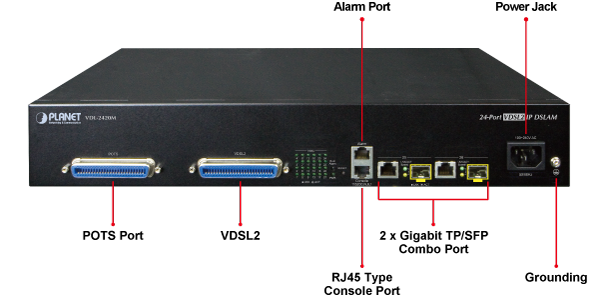 Delivering Highly-demanding Connectivity for ISPs/Triple Play Devices
As the demand for home broadband connections increases, the VDSL2 technology is the next media to support the integration of home services and provides a significant transmission speed faster than that of the current cable modem and ADSL technology. The VDL-2420M applies the EoVDSL (Ethernet over VDSL) to providing up to 100Mbps download capability and makes the following multi-media services more efficient on the local network:
 ■ IPTV/HDTV
 ■ VoD (Video on Demand)
 ■ Voice over IP
 ■ Video Conferencing/Video Phone
 ■ On-line Gaming
 ■ Internet Radio/On-line Music
 ■ Long-distance Education

The VDL-2420M offers an excellent bandwidth to meet the requirements of the triple play devices for home entertainment and communications.
QoS Features Provided to Ensure Best Performance
The VDSL2 DSLAM contains robust QoS features such as port-based, 802.1p priority and IP ToS/DSCP to ensure the best performance of its VoIP and video stream transmission, thus empowering the enterprises to take full advantage of the limited network resources.

Selectable VDSL2 Data Rate for Service Differentiation
Through the management interface, the administrator can control the data transmission speed of each VDSL2 interface. Telecoms and ISPs can immediately and remotely upgrade/downgrade bandwidth service upon different demands.

Efficient Management
To further expand the current network, PLANET VDL-2420M provides console and Telnet command line interfaces, and advanced Web and SNMP management interfaces. With its built-in Web-based management interface, the VDSL2 DSLAM offers an easy-to-use, platform-independent management and configuration facility. The VDSL2 DSLAM supports standard Simple Network Management Protocol (SNMP) and can be monitored via any standard-based management software. For text-based management, the VDSL2 DSLAM can also be accessed via Telnet and the console port. The features above provide an efficient way to manage the devices from the internet environment with no need to add an extra secure system either by means of hardware or software.
Robust Layer 2 Features
For efficient management, via Web interface, the VDL-2420M can be programmed for basic switch management functions, such as port speed configuration, port link aggregation, IEEE 802.1Q VLAN and Q-in-Q VLAN, port mirroring, Rapid Spanning Tree, and ACL security. Additionally, the firmware includes advanced features such as IGMP snooping, QoS (Quality of Service), broadcast storm and bandwidth control to enhance bandwidth utilization.

Advanced Security
The VDSL2 DSLAM offers comprehensive Layer 2, Layer 3 and Layer 4 Access Control List (ACL) to filter out unwanted traffic. Its protection mechanisms comprise RADIUS and port-based 802.1X user and device authentication. Moreover, the VDSL2 IP DSLAM provides MAC filter, static MAC, IP/MAC binding and Port Security for enforcing security policies to the edge. The administrators can now construct highly-secure corporate networks with considerably less time and effort than before.
MTU/MDU/Hospitality Solution
IPTV, VoD and digital message broadcasting services are currently the trend worldwide. More and more service providers have gradually upgraded the client-side devices from analog system to digital system. PLANET VDL-2420M VDSL2 CO Switch and VC-23x VDSL2 CPEs are the best solutions to quickly providing cost-effective and high-speed network services by utilizing the existing telephone wire infrastructure. IP network installation is straightforward and requires no new wiring. With enough bandwidth, the VDL-2420M with up to 100/100Mbps symmetric capability enables to make multi-media services on the local Internet, such as VoD (Video on Demand), Voice over IP, video phone, IPTV, distance education and so on, more efficient. This kind of infrastructure will minimize the burden on the Internet.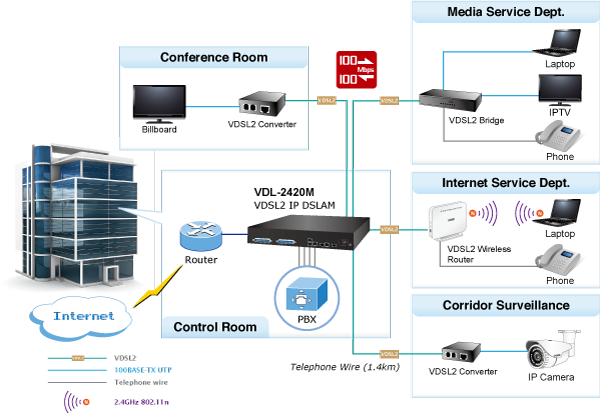 Last Mile of FTTx Deployment
Co-working with various PLANET VDSL2 CPE product lines, the VDL-2420M provides a symmetric data rate of up to 100/100Mbps within 300m, thus making long-range connections possible. It offers the benefit of high performance to central office co-location and MTU (Multi-Tenant Unit)/MDU (Multi-Dwelling Unit) markets. It provides service of broadband data over existing copper wires without affecting the conventional voice service by 24 subscriber ports with built-in POTS splitter and long-distance support through the two fiber optic uplink interfaces. The various distances of SFP (small-form factor) and Bidi (WDM) transceivers are optional for customers. The VDL-2420M VDSL2 IP DSLAM is a great and ideal solution for FTTx (Fiber to the Building, Fiber to the Campus or Fiber to the Home) applications. It supports high bandwidth VDSL2 over existing telephone wires in the "last mile" from the ISP/telecom/service provider's fiber node to the buildings and customers' homes with cost-effective and high-value central management capability.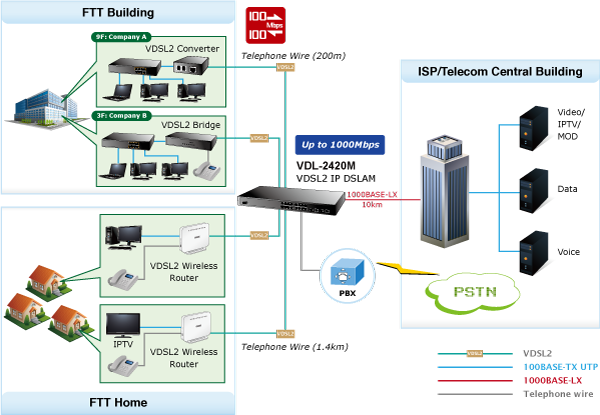 VDSL Interface
24 full-duplex VDSL links via RJ21(Telco 50) connector
24 corresponding POTS lines via RJ21(Telco 50) connector
Built-in POTS splitter for each VDSL port
Auto-speed function for VDSL2 link (by distance and cable quality)
Ethernet Interface
2 Gigabit TP and SFP shared combo interfaces
Auto-MDI/MDI-X detection on Gigabit RJ45 port
VDSL2 Features
Cost-effective VDSL2 link and central management solution
ITU-T G.993.2 VDSL2 standard
DMT (Discrete Multi-Tone) line coding VDSL
ITU-T G.993.2, 8a, 8b, 8c, 8d, 12a, 12b, 17a, 30a profiles
Configurable line template and alarm template
Configurable UPBO, DPBO, USO allowed and virtual noise PSD
Configurable Bitswarp/G.hs carrier set/RFI Band
Symmetric data rate of up to 100/100Mbps
Copper wiring distance up to 1km
Selectable target data rate and target SNR margin
Built-in surge protection against surge damage from high energy spike
Voice and data communication can be shared on the existing telephone wire simultaneously
Supports downstream/upstream rate control on each port
Layer 2 Features
High performance of Store-and-Forward architecture and runt/CRC filtering eliminate erroneous packets to optimize the network bandwidth
Broadcast/multicast/unicast storm control
Supports VLAN

- IEEE 802.1Q tag-based VLAN

- Port-based VLAN

- Q-in-Q tunneling (VLAN stacking)

- GVRP for dynamic VLAN management

- Private VLAN edge (PVE/protected port)

Link Aggregation

- IEEE 802.3ad LACP (Link Aggregation Control Protocol)

- Cisco ether-channel (static trunk)

Spanning Tree Protocol

- STP, IEEE 802.1D

- MSTP, IEEE 802.1s

Port mirroring to monitor the incoming or outgoing traffic on a particular port
Quality of Service
4 priority queues on all switch ports
Traffic classification

- IEEE 802.1p CoS

- IP ToS/DSCP

- Port-based priority

Strict priority and Weighted Round Robin (WRR) CoS policies
Multicast
Supports IGMP snooping v1 and v2
IGMP querier mode support
Security
IEEE 802.1X port-based network access control protocol
RADIUS users access authentication
L2/L3/L4 Access Control List (ACL)
MAC filtering and source IP-MAC/port-binding
Port security for source MAC address entries filtering
Management
Switch Management Interface

- Telnet command line interface

- Web switch management

- SNMP v1, v2c, v3 switch management

DHCP client for IP address assignment
Link Layer Discovery Protocol (LLDP) for easy network management
DHCP option 82 and DHCP relay
Built-in Trivial File Transfer Protocol (TFTP) client
Firmware upgrade via TFTP or HTTP
Configuration upload/download via TFTP or HTTP
Four RMON groups 1, 2, 3, 9 (history, statistics, alarms and events)
SNMP trap for interface Link Up and Link Down notification
Reset button for system management
RJ45 console interface for switch basic management and setup
Datasheet
Quick Guide
User's Manual