High-density, Resilient Deployment Switch Solution for Gigabit Networking of Enterprise, Campus and Data Center
For the growing Gigabit network and IoT (Internet of Things) demand, PLANET has launched a new-generation Stackable Gigabit Switch solution, the SGS-5220 switch series, to meet the needs of enterprises, telecoms and campuses for a large-scale network deployment. The SGS-5220-24P2X is Layer 2+ Stackable Managed Gigabit Switch, which supports both IPv4 and IPv6 protocols and hardware Layer 3 static routing capability, and provides 24 10/100/1000Mbps 802.3at PoE+ ports, 4 shared Gigabit SFP slots, 2 10G SFP+ uplink slots and another 2 dedicated 10G SFP+ stacked interfaces for stacking with the series of switches. Up to 16 units, 384 Gigabit Ethernet PoE+ ports and 32 10Gbps SFP+ slots can be managed by a stacking group and you can add ports and functionality as needed.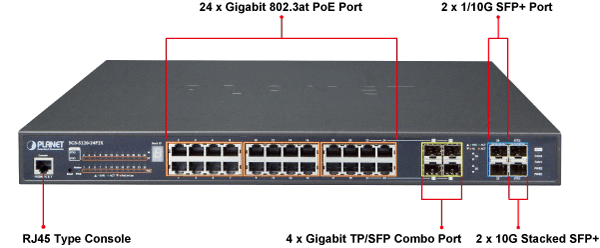 Efficient Single IP Management
The SGS-5220 stackable series applies the advantage of the stacking technology to managing the stack group with one single IP address, which helps network managers to easily manage a stack of switches instead of connecting and setting each unit one by one. The stacking technology also enables the chassis-based switches to be integrated into the SGS-5220 Stackable Managed Switch series at an inexpensive cost.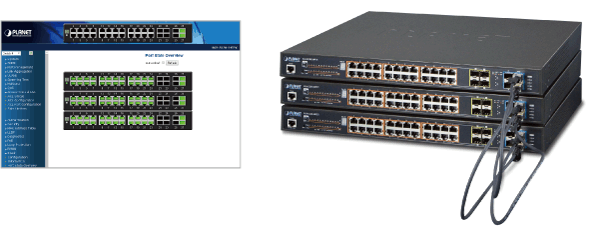 Highly-reliable Stacking Ability
Through its up to 40Gbps, bi-directional high bandwidth tunnel and stacking technology, the SGS-5220-24P2X gives the enterprises, service providers and telecoms flexible control over port density, uplinks and switch stack performance. The stack redundancy of the SGS-5220-24P2X ensures that data integrity is retained even if one switch in the stack fails. You can even hot-swap switches without disrupting the network, which greatly simplifies the tasks of upgrading the LAN for catering to increasing bandwidth demands.

Centralized Power Management for Gigabit Ethernet PoE Networking
To fulfill the needs of higher power required PoE network applications with Gigabit speed transmission, the SGS-5220-24P2X features high-performance Gigabit IEEE 802.3af PoE (up to 15.4 watts) and IEEE 802.3at PoE+ (up to 30 watts) on all ports. It perfectly meets the power requirement of PoE VoIP phone and all kinds of PoE IP cameras such as IR, PTZ, speed dome cameras or even box type IP cameras with built-in fan and heater for high power consumption.

The SGS-5220-24P2X's PoE capabilities also help to reduce deployment costs for network devices as a result of freeing from restrictions of power outlet locations. Power and data switching are integrated into one unit, delivered over a single cable and managed centrally. It thus eliminates cost for additional AC wiring and reduces installation time.

Built-in Unique PoE Functions for Surveillance Management
As a managed PoE Switch for surveillance network, the SGS-5220-24P2X features intelligent PoE Management functions:
■ PD ALIVE Check
■ Scheduled Power Recycling
■ SMTP/SNMP Trap Event Alert
■ PoE Schedule

Intelligent Powered Device Alive Check
The SGS-5220-24P2X can be configured to monitor connected PD (Powered Device) status in real-time via ping action. Once the PD stops working and it is without response, the SGS-5220-24P2X will resume the PoE port power and bring the PD back to work. It will greatly enhance the network reliability through the PoE port resetting the PD's power source, thus reducing administrator management burden.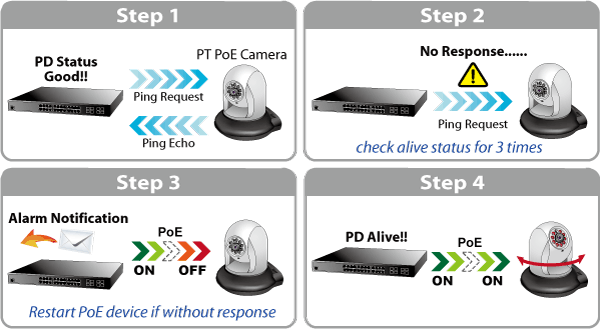 Scheduled Power Recycling
The SGS-5220-24P2X allows each of the connected PDs (Powered Devices) to reboot in a specific time each week. Therefore, it will reduce the chance of PD (Powered Device) crash resulting from buffer overflow.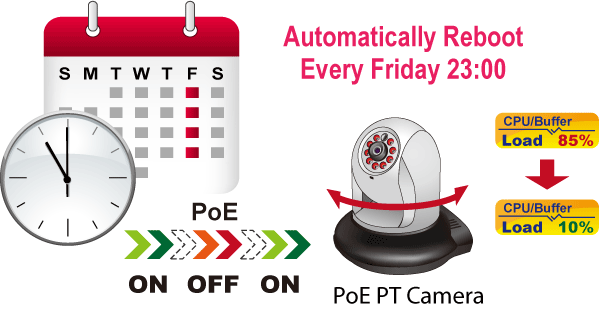 SMTP/SNMP Trap Event Alert
Though most NVR or camera management software offers SMTP email alert function, the SGS-5220-24P2X further provides event alert function to help to diagnose the abnormal device owing to whether or not there is a break of the network connection, loss of PoE power or the rebooting response by the PD Alive Check process.

PoE Schedule for Energy Saving
Besides being used for IP surveillance, the SGS-5220-24P2X is certainly applicable to construct any PoE network including VoIP and wireless LAN. Under the trend of energy saving worldwide and contributing to the environmental protection on the Earth, the SGS-5220-24P2X can effectively control the power supply besides its capability of giving high watts power. The "PoE schedule" function helps you to enable or disable PoE power feeding for each PoE port during specified time intervals and it is a powerful function to help SMB or Enterprise save energy and money.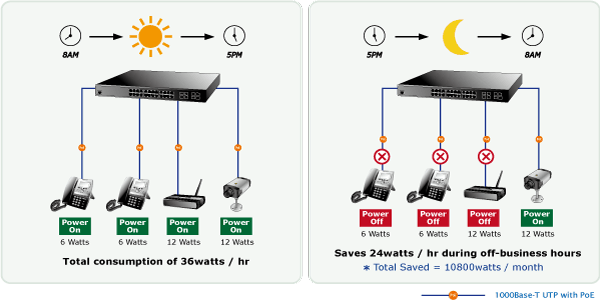 Cost-effective 10Gbps Uplink Capacity
10G Ethernet is a big leap in the evolution of Ethernet. The two 10G SFP+ slots of the SGS-5220-24P2X support Dual-speed, 10GBASE-SR/LR or 1000BASE-SX/LX, meaning the administrator now can flexibly choose the suitable SFP/SFP+ transceiver according to the transmission distance or the transmission speed required to extend the network efficiently. They greatly support SMB network to achieve 10Gbps high performance in a cost-effective way because 10GbE interface usually could be available in Layer 3 Switch but Layer 3 Switch could be too expensive to SMBs.

Solution for IPv6 Networking
With the support for IPv6 / IPv4 protocol, and easy and friendly management interfaces, the SGS-5220 series is the best choice for IP surveillance, VoIP and wireless service providers to connect with the IPv6 network. It also helps the SMB to step in the IPv6 era with the lowest investment but not necessary to replace the network facilities while the ISP constructs the IPv6 FTTx edge network.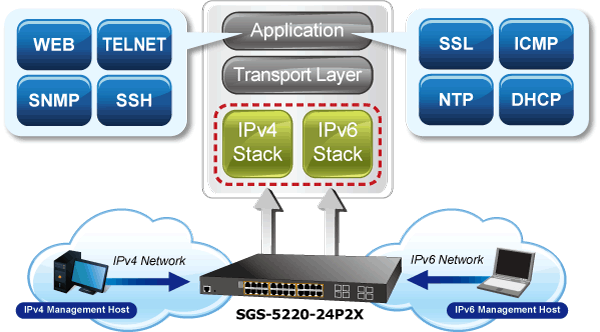 IPv4 and IPv6 VLAN Routing for Secure and Flexible Management
To help customers stay on top of their businesses, the SGS-5220 switch series not only provides ultra high transmission performance and excellent layer 2 technologies, but also offers IPv4/IPv6 VLAN routing feature which allows to crossover different VLANs and different IP addresses for the purpose of having a highly secured, flexible management and simpler networking application.

Robust Layer2 Features
The SGS-5220 series can be programmed for advanced switch management function, such as dynamic port link aggregation, Q-in-Q VLAN, Multiple Spanning Tree Protocol(MSTP), Layer 2/4 QoS, bandwidth control and IGMP/MLD snooping. The SGS-5220 series allows the operation of a high-speed trunk combining multiple ports. Supporting 14 trunk groups, it enables a maximum of up to 8 ports per trunk and supports connection fail-over as well.

Powerful Security
The SGS-5220 series offers comprehensive layer2 to layer4 access control list (ACL) for enforcing security to the edge. It can be used to restrict network access by denying packets based on source and destination IP address, TCP/UDP port number or defined typical network applications. Its protection mechanism also comprises 802.1x Port-based and MAC-based user and device authentication. With the private VLAN function, communication between edge ports can be prevented to ensure user privacy.

Enhanced Security and Traffic Control
The SGS-5220 series also provides DHCP Snooping, IP Source Guard and Dynamic ARP Inspection functions to prevent IP snooping from attack and discard ARP packets with invalid MAC address. The network administrator can now construct highly secured corporate networks with considerably less time and effort than before.
User-friendly Secure Management
For efficient management, the SGS-5220 managed switch series is equipped with console, web and SNMP management interfaces. With the built-in web-based management interface, the SGS-5220 series offers an easy-to-use, platform independent management and configuration facility. The SGS-5220 series supports SNMP and it can be managed via any management software based on the standard SNMP v1 and v2 protocols. For reducing product learning time, the SGS-5220 series offers Cisco-like command via Telnet or console port and customer doesn't need to learn new command from these switches. Moreover, the SGS-5220 series offers remote secure management by supporting SSH, SSL and SNMPv3 connection which can encrypt the packet content at each session.

Flexible and Extendable Solution
The 4 mini-GBIC SFP slots built in the SGS-5220-24P2X support dual speed as it features 100BASE-FX and 1000BASE-SX/LX SFP (Small Form-factor Pluggable) fiber-optic modules. Now the administrator can flexibly choose the suitable SFP transceiver according to not only the transmission distance, but also the transmission speed required. The distance can be extended from 550 meters to 2km (multi-mode fiber) and up to 10/20/30/40/50/70/120 kilometers (single-mode fiber or WDM fiber). They are well suited for applications within the enterprise data centers and distributions.
Intelligent SFP Diagnosis Mechanism
The SGS-5220-24P2X supports SFP-DDM (Digital Diagnostic Monitor) function that greatly helps network administrator to easily monitor real-time parameters of the SFP and SFP+ transceivers, such as optical output power, optical input power, temperature, laser bias current, and transceiver supply voltage.
Layer 2+ VLAN Static Routing and PoE Application
With the built-in robust IPv4 / IPv6 Layer 3 traffic routing protocols, the SGS-5220-24P2X ensures reliable routing between VLANs and network segments. The routing protocols can be applied by VLAN interface with up to 128 routing entries. The SGS-5220-24P2X is certainly a cost-effective and ideal solution for enterprises.

Providing up to 24-Port Gigabit High-power PoE and in-line power interface, the SGS-5220-24P2X High-power PoE Switch can easily build a centrally-controlled power network shared by wireless Gigabit AP, IP phone system, or mega-pixel IP camera system group for the enterprises. For instance, 24 IP cameras and wireless APs can be easily installed around the corner in the company for surveillance demands or a wireless roaming environment in the office. Without the power-socket limitation, the stackable PoE Switch makes the deployment of IP cameras or Wireless LAN AP easier and more efficient.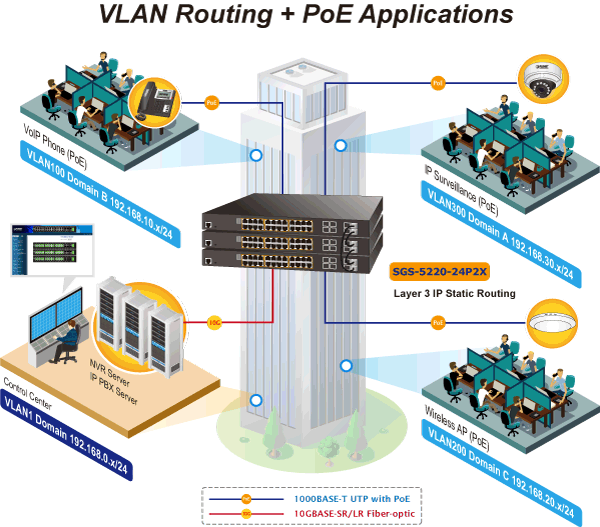 While video surveillance system becomes more and more important for visible security in the factory, warehouse, and public places, the IP cameras with PoE function would be a lot helpful for the surveillance deployment when the power outlet is not easily found in the ceiling or in the outdoor. For example, in the factory operation or in the warehouse storage security, the PoE IP camera can be installed anywhere regardless of the restrictions of power outlet location. With the PoE Switch SGS-5220-24P2X acting as the central control manager and offering remote power monitoring via Web interface or SNMP trap and SNMP monitoring, the manager can get the PoE devices status and alert immediately. The PoE IP cameras can also be controlled remotely, which increases the administrator management efficiency and improves the productivity.
Physical Port
24-Port 10/100/1000BASE-T RJ45 copper with IEEE 802.3at / 802.3af Power over Ethernet Injector function
4 100/1000BASE-X mini-GBIC/SFP slots, shared with Port-21 to Port-24 compatible with 100BASE-FX SFP
2 10GBASE-SR/LR SFP+ slots, compatible with 1000BASE-SX/LX/BX SFP
2 10GBASE-SR/LR SFP+ stackable slots
RJ45 console interface for basic management and setup

Stacking Features
Physical stacking up to 16 units, 384 Gigabit ports, 32 10 Gigabit ports
Single IP address stack management
Stacking architecture supports Chain and Ring mode
Plug and Play connectivity
Mirror across stack
Link Aggregation groups spanning multiple switches in a stack
Physical MAC address learning with MAC table synchronization across stack

Power over Ethernet
Complies with IEEE 802.3at High Power over Ethernet end-span PSE
Complies with IEEE 802.3af Power over Ethernet end-span PSE
Up to 24 ports of IEEE 802.3af / 802.3at devices powered
Supports PoE Power up to 30.8 watts for each PoE port
Auto detects powered device (PD)
Circuit protection prevents power interference between ports
Remote power feeding up to 100 meters
PoE Management
- Total PoE power budget control- Per port PoE function enable/disable- PoE Port Power feeding priority- Per PoE port power limitation- PD classification detection- PD alive-check- PoE schedule- PD power recycling schedule

Layer 2 Features
Prevents packet loss with back pressure (half-duplex) and IEEE 802.3x pause frame flow control (full-duplex)
High performance of Store-and-Forward architecture and runt/CRC filtering eliminates erroneous packets to optimize the network bandwidth
Storm Control support
- Broadcast / Multicast / Unknown unicast
Supports VLAN
- IEEE 802.1Q tagged VLAN- Up to 255 VLANs groups, out of 4094 VLAN IDs- Supports provider bridging (VLAN Q-in-Q, IEEE 802.1ad)- Private VLAN Edge (PVE)- Protocol-based VLAN- MAC-based VLAN- Voice VLAN
Supports Spanning Tree Protocol
- STP, IEEE 802.1D Spanning Tree Protocol- RSTP, IEEE 802.1w Rapid Spanning Tree Protocol- MSTP, IEEE 802.1s Multiple Spanning Tree Protocol, spanning tree by VLAN- BPDU Guard
Supports Link Aggregation
- 802.3ad Link Aggregation Control Protocol (LACP)- Cisco ether-channel (static trunk)- Maximum 14 trunk groups, up to 8 ports per trunk group- Up to 40Gbps bandwidth (full duplex mode)
Provides port mirror (many-to-1)
Port mirroring to monitor the incoming or outgoing traffic on a particular port
Loop protection to avoid broadcast loops

Layer 3 IP Routing Features
Supports maximum 128 static routes and route summarization

Quality of Service
Ingress Shaper and Egress Rate Limit per port bandwidth control
8 priority queues on all switch ports
Traffic classification
- IEEE 802.1p CoS- TOS / DSCP / IP Precedence of IPv4/IPv6 packets- IP TCP/UDP port number- Typical network application
Strict priority and Weighted Round Robin (WRR) CoS policies
Supports QoS and In/Out bandwidth control on each port
Traffic-policing policies on the switch port
DSCP remarking

Multicast
Supports IGMP Snooping v1, v2 and v3
Supports MLD Snooping v1 and v2
Querier mode support
IGMP Snooping port filtering
MLD Snooping port filtering
Multicast VLAN Registration (MVR) support

Security
Authentication
- IEEE 802.1x Port-based / MAC-based network access authentication- Built-in RADIUS client to co-operate with the RADIUS servers- TACACS+ login users access authentication- RADIUS / TACACS+ users access authentication
Access Control List
- IP-based Access Control List (ACL)- MAC-based Access Control List
Source MAC / IP address binding
DHCP Snooping to filter un-trusted DHCP messages
Dynamic ARP Inspection discards ARP packets with invalid MAC address to IP address binding
IP Source Guard prevents IP spoofing attacks
Auto DoS rule to defend DoS attack
IP address access management to prevent unauthorized intruder

Management
IPv4 and IPv6 dual stack management
Switch Management Interfaces
- Console / Telnet Command Line Interface- Web switch management- SNMP v1, v2c, and v3 switch management- SSH / SSL secure access
IPv6 IP Address / NTP / DNS management
Built-in Trivial File Transfer Protocol (TFTP) client
BOOTP and DHCP for IP address assignment
System Maintenance
- Firmware upload/download via HTTP / TFTP- Reset button for system reboot or reset to factory default- Dual Images
DHCP Relay
DHCP Option82
User Privilege levels control
NTP (Network Time Protocol)
Link Layer Discovery Protocol (LLDP) and LLDP-MED
Network Diagnostic
- ICMPv6 / ICMPv4 Remote Ping- Cable Diagnostic technology provides the mechanism to detect and report potential cabling issues
SMTP / Syslog remote alarm
Four RMON groups (history, statistics, alarms and events)
SNMP trap for interface Link Up and Link Down notification
System Log
PLANET Smart Discovery Utility for deploy management
Datasheet
Firmware
Quick Guide
User's Manual
EC Declaration