PoE Solution for Long-reach Distance
PLANET IPOE-E174 is an industrial 1-Port 802.3bt PoE++ to 4-Port 802.3af/at Gigabit PoE Extender designed especially for the point to multipoint PoE application. The IPOE-E174 can obtain a maximum of 95-watt PoE power from 802.3bt PoE++ input port and supplies a maximum of 75-watt PoE power budget for 4 PoE output ports, extending both the reach of Gigabit Ethernet Data and IEEE 802.3at Power over Ethernet over the standard 100m (328 ft.) Cat. 5/5e/6 UTP cable to 200m where up to 4 powered devices (PDs) can be powered at the same time. The IPOE-E174 provides a simple solution for adding PoE ports without running more cabling and achieves more flexible network applications without requiring an external power adapter.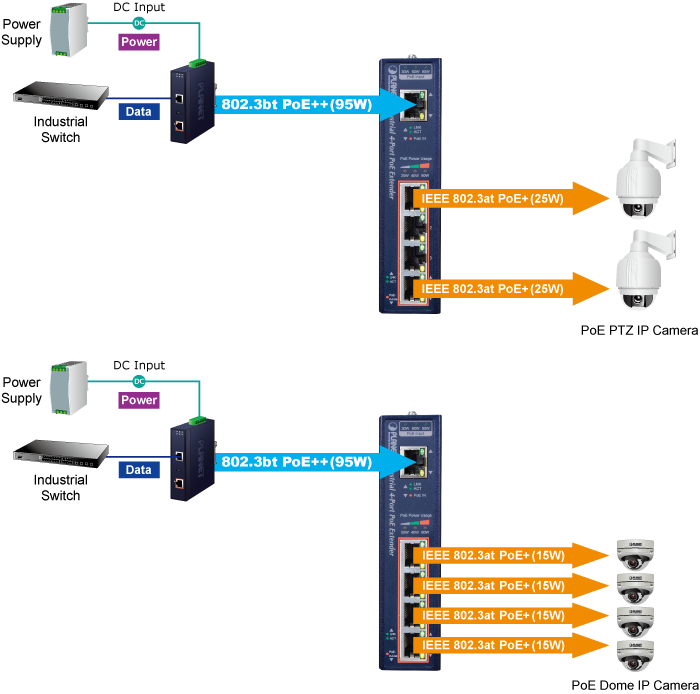 Environmentally-hardened Design
With industrial-grade IP30 metal case, the IPOE-E174 provides a high level of immunity against electromagnetic interference and heavy electrical surges which are usually found on plant floors or in curb-side traffic control cabinets. Being able to operate under the temperature range from -40 to 75 degrees C, the IPOE-E174 can be placed in almost any difficult environment.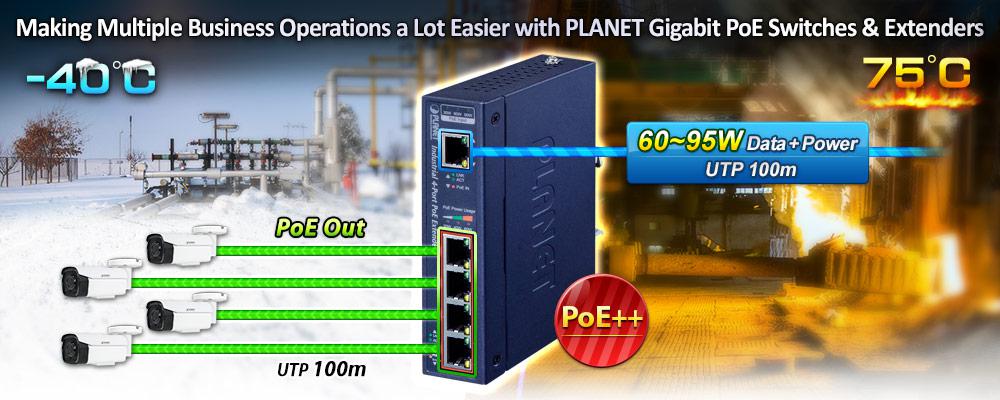 Intelligent LED Indicator for Real-time PoE Usage
The IPOE-E174 helps users to monitor the current status of PoE power usage easily by its advanced LED indication. Called "PoE Power Usage" shown in percentage, the front panel of the IPOE-E174 has three LEDs indicating 20, 40 and 60 watts of PoE power usage. With these LED indications, you can monitor the PoE power status of the IPOE-E174 efficiently.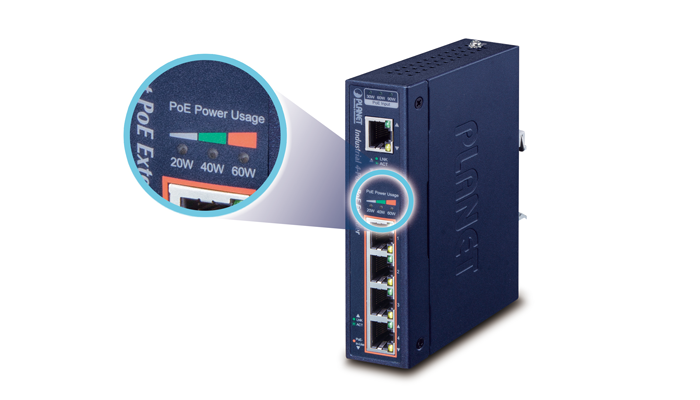 Plug and Play, Easy Cabling Installation
The IPOE-E174 can be easily installed by way of Plug and Play. It is used between a power source equipment (PSE) and the PD. The IPOE-E174 injects power to the PD without affecting the data transmission performance. The IPOE-E174 offers a cost-effective and quick solution to doubling the standard range of PoE from 100 to 200 meters. The IPOE-E174 is designed in a compact box containing 5 RJ45 ports, of which 1 "PoE IN" port functions as PoE (Data and Power) input and 4 "PoE OUT" ports on the other side functions as PoE (Data and Power) output. The "PoE OUT" port is also the power injector where DC voltage is transmitted over Cat. 5/5e/6 cable, and data and power are simultaneously transferred between the PSE and PD.
One Power Source for Multi Powered Devices
Is 100-meter cable long enough for a wide range of IP surveillance deployments? The answer is certainly not. To achieve the benefits of IP surveillance where IP cameras are installed in a remote location, PLANET IPOE-E174 is very useful for expanding the network already set up without worrying about the cabling distance limitation. In contrast, the conventional networking does not have the flexibility of network expansion.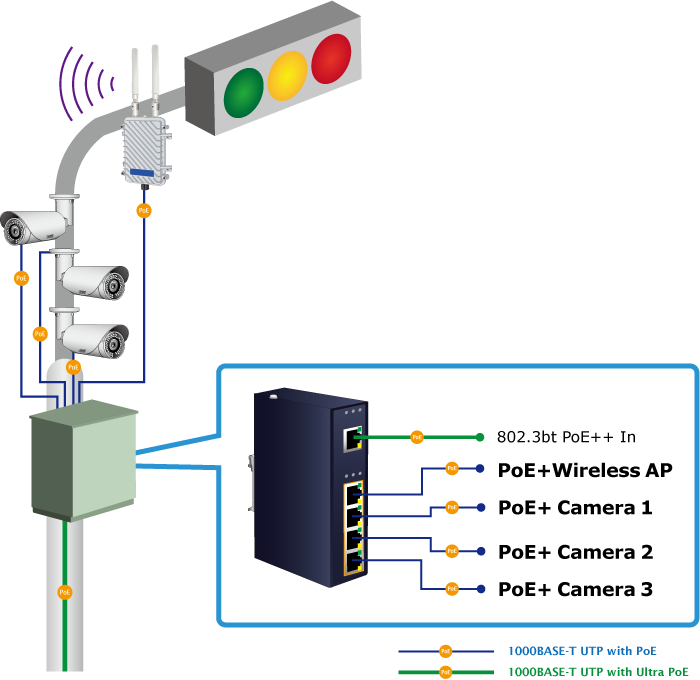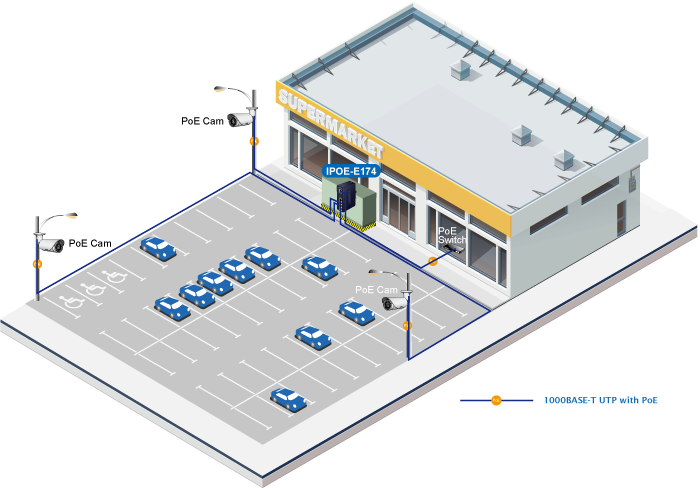 The IPOE-E174 industrial 1-Port 802.3bt PoE++ to 4-Port 802.3af/at Gigabit PoE Extender requires very little installation time and does not require any additional setup or programming by using standard RJ45 cable from power sourcing device, such as 802.3bt PoE++ injector supplying 802.3bt PoE++ power, to the IPOE-E174 and converting power for 4 powered devices that are IEEE 802.3af/at PoE standard compliant, meaning any additional power adapter for IP cameras and wireless access points is not necessary.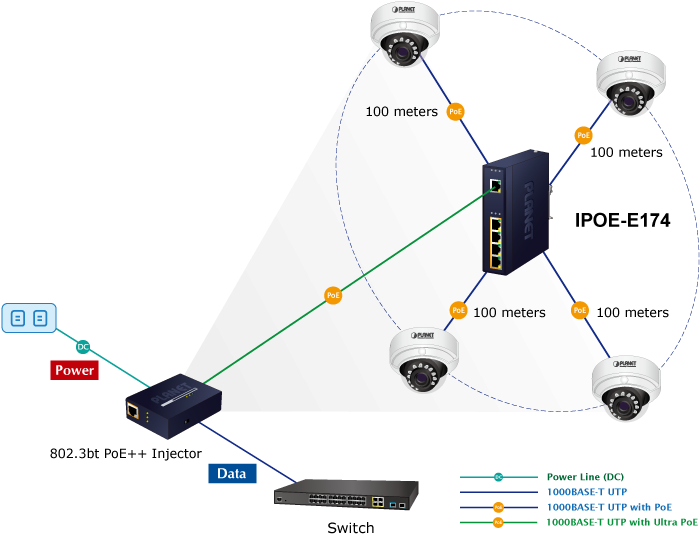 Physical Port
Five 10/100/1000BASE-T Gigabit RJ45 interfaces
- 1-port data + power input
- 4-port data + power output
Power over Ethernet
1-port data + power input

- Complies with 802.3bt Power over Ethernet Plus Plus end-span and mid-span PD
- Complies with IEEE 802.3at Power over Ethernet Plus end-span/mid-span PD
- Supports PoE input power up to 95 watts
4-port data + power output
- Complies with IEEE 802.3af/at PoE/end-span PSE
- Up to 4 IEEE 802.3af/at devices powered
- Supports PoE power up to 30 watts for each PoE port
- Auto detects powered device (PD)
Extends the range of PoE to an additional 100 meters (328ft.)

Forwards both Ethernet data and PoE power to remote device
Layer 2 Features
Features Store-and-Forward mode with wire-speed filtering and forwarding rates

Integrates address look-up engine, supporting 2K absolute MAC addresses

9K jumbo frame support in 1000Mbps duplex mode

Automatic address learning and address aging
Industrial Case and Installation
IP30 metal case

DIN-rail and wall-mount designs

Supports 6000V DC Ethernet ESD protection

-40 to 75 degrees C operating temperature

No external power cable required for installation

Plug and Play installation