Cost-effective Solution for RS232/422/485 Serial-to-Ethernet Application
PLANET ICS-110 Serial Device Server is specially designed to convert RS232, RS422 or RS485 serial communication to Fast Ethernet networking to extend the network distance efficiently and inexpensively.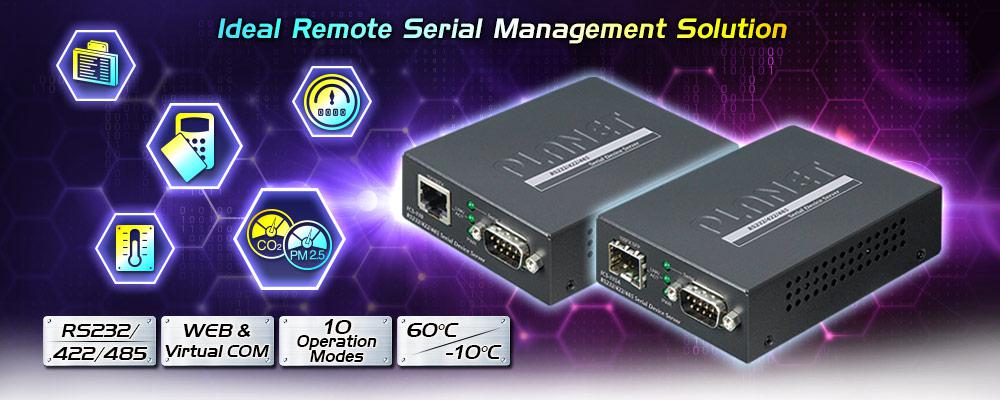 There is one 10/100BASE-TX RJ45 port in the ICS-110 and its operating temperature ranges from -10 to 60 degrees C for your network needs. The ICS-110 is a time-saving and cost-effective solution for users and system integrators to quickly transform their serial devices into the Ethernet network with no need of replacing the existing serial devices and software system.

Remote Management
As the ICS-110 provides an easy serial-to-Ethernet connectivity and connection to a TCP/IP network, the remote network system can thus be managed efficiently via its Web, telnet and VCOM management interfaces. It supports both application and serial operation modes for alarm or IP address connection, which saves the network administrator's time in detecting and locating network problems without visual inspection of the cabling and devices. Multiple connection options are available for large networking environment as well.
Easy Chassis Installation
The ICS-110 can be used as a stand-alone unit or a slide-in module to PLANET Media Converter Chassis (MC-700 and MC-1500 chassis). The media chassis can assist in providing DC power to the ICS-110 and can be DIN-rail or wall mounted for efficient use of cabinet space, without the need of replacing the existing serial equipment and software system.

Access Control System – Traditional System Application
Most of the enterprises and government use access control plate and Mifare or RFID to authorize entrance identity. Traditionally, the access control machines use RS232 or RS485 serial interface with their cables connecting to login server. By applying the ICS-110 Serial Device Server, the access control machine is able to extend the network over longer distances via Ethernet interfaces. In addition, the ICS-110 can be linked to an xDSL router to get the internet access capability so that the access control can be set and monitored over the internet.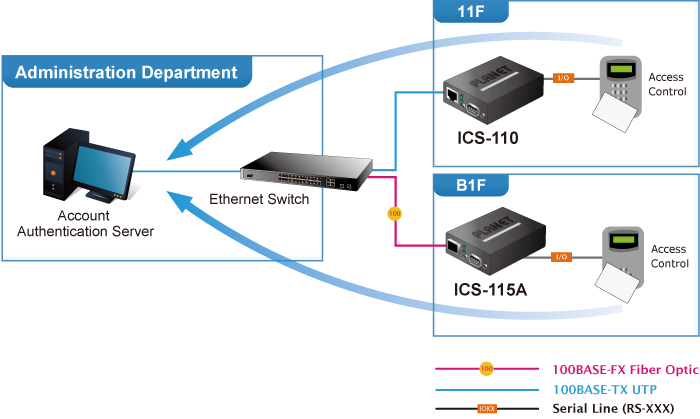 Process Control
To monitor, configure and manage the robotic conveyer including other production machines, PLC (programmable logical control) is required to drive the above manufacturing process. The ICS-110 can be set to the TCP server mode and connected to the PLC. Thus, the administrator can configure and set command settings through Fast Ethernet intranet to remotely control the PLC, without having to stand by the I/O machine.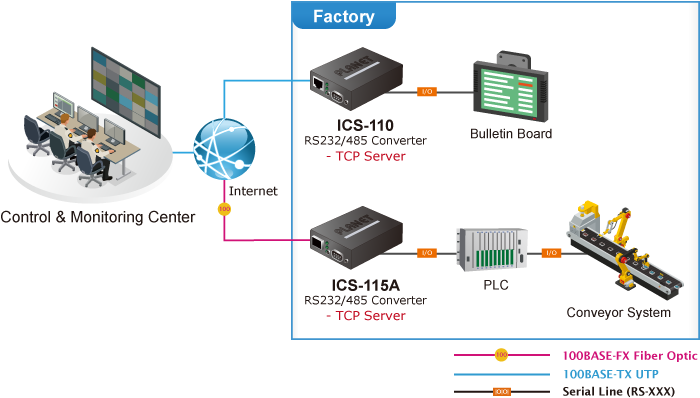 RTU Data Collect – UDP Mode
Connect with RTU (remote terminal unit) to collect and monitor the data of waves, signal and power utilization. The ICS-110 can be used to set up UDP mode and send data over Fast Ethernet to local server or over Internet to remote server automatically.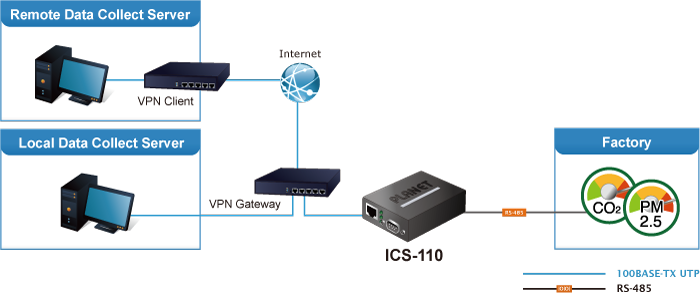 Surveillance Motion Control – Pair Connection Mode
Using pair connection mode via the fiber optic patch cord, the ICS-110 can extend the distance of the deployed devices via RS232, RS422 and RS485 interfaces, making the remote management of these devices from the monitoring center easier and efficient.

Serial Interface
One DB9 interface supports RS232, 2-wire RS485, 4-wire RS485 and RS422 operation

Asynchronous serial data rates up to 921600bps

Data mode includes VCOM, RFC2217, TCP Server, TCP Client, UDP, Remote Pair, Modbus converter server / client and Serial Telnet modes
Ethernet Interface
1-port 10/100BASE-TX RJ45 with auto MDI/MDI-X function
Management
IPv4 and IPv6 dual stack management

Remote Management Interfaces

- IP-based Web management
- Telnet console management
- Windows-based VCOM utility supports searching, monitoring and configuration setting

IP NTP (Network Time Protocol)

Standard TCP/IP interface and versatile operation modes

Software Protocol supports ICMP, TCP/IP, UDP, HTTP server, DHCP client, Telnet server/client

Serial Operation mode selected via management interface

Pair Connection mode for connecting two serial devices over a network

Allows a maximum of 4 hosts to be accessed as TCP client mode

Firmware upgrade via HTTP protocol

Accessible IP security control to prevent illegal users

Event notification

- Remote syslog server
DHCP client for IP address assignment
PLANET Smart Discovery utility automatically finds the client devices on the netw
Case and Installation
Compact size for easy Installation

- Standalone -- Wall mountable or DIN-rail mounting (optional accessory)
- Co-works with PLANET MC family Media Chassis (MC-700/1500)
External power adaptor 5V DC, 2A max.

Supports 6000 VDC Ethernet ESD protection

-10 to 60 degrees C operating temperature

Supports extensive LED indicators for network diagnosis

Reset button for resetting to factory default