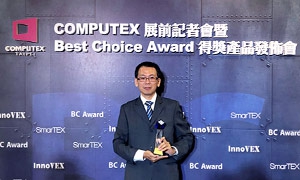 PLANET Technology, a global leading IP-based networking company, announced that its newly-launched Enterprise-class Wireless LAN Controller, WAPC-1000, has won the prestigious Best Choice Award (BC Award) 2018, the official award of COMPUTEX TAIPEI. PLANET WAPC-1000 is the world's first Wireless LAN Controller which can centrally manage up to 1,024 indoor and outdoor wireless APs via the cloud network. The BC Award has been won in the "Communications & Networking" category.
The BC Award, promoted by COMPUTEX TAIPEI, one of the world's grandest ICT events, aims to select the best ICT products of the year by evaluating the product's functionality, innovation and market potentiality. PLANET WAPC-1000 outshines its rivals to win the award by innovatively integrating features of AP management via the cloud network, providing unique user-friendly management interface and offering exclusive system upgrade and AP license free-of-charge.
| | |
| --- | --- |
| | PLANET WAPC-1000 is equipped with the user-friendly LCD Screen on its front panel and Dashboard interface to bring efficient AP management at-a-glance. Integrated with the Zone Plan and Google map features, PLANET WAPC-1000 enables the service providers and IT managers to quickly identify the locations and status of APs via PLANET DDNS and cloud network, thus greatly promoting the effectiveness of managing a large-scale wireless LAN and cellular network in the public areas, shopping malls, hotels, SMBs, buildings, etc. The WAPC-1000 also provides a secure wireless LAN management solution via its built-in DHCP server, RADIUS server and SNMP functions. Furthermore, the WAPC-1000 effectively reduces the total cost of ownership of the Wireless LAN deployment by offering the system upgrade and AP license for free. |
At this year's COMPUTEX TAIPEI (June 5-9), PLANET's BC Award-winning WAPC-1000 Enterprise-class Wireless LAN Controller will be displayed both at PLANET's booth no. A0604 at TWTC Exhibition Hall 1, and the Taipei Nangang Exhibition Center where the benefits of having the WAPC-1000 managed your large-scale wireless LAN will be made known.